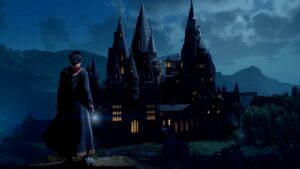 Hogwarts Legacy will come out later on the Nintendo Switch than on other platforms, but what is the exact release date?
Hogwarts Legacy Nintendo Switch release date
Hogwarts Legacy for Nintendo Switch will be released on July 25, 2023.
Many people may be surprised by this, as the game is quite demanding even for the most recent generation of consoles and high-spec PCs. Having said that, it's clear that the developers are working extra hard to bring Hogwarts Legacy to Switch, hence the delayed release date.
As far as we know, the Nintendo Switch port will be the same game with all of the same features as the other versions. There is currently no Hogwarts Legacy gameplay on Nintendo Switch, but we anticipate a significant downgrade to run on Nintendo's portable console.
Is Hogwarts Legacy playable on Nintendo Switch Cloud streaming?
Many games on the Nintendo Switch can be played via Cloud streaming, which is a console service that allows players to run more demanding games through a server rather than putting all of the load on the hardware.
Currently, it appears that players will need to purchase the physical cartridge in order to play Hogwarts Legacy on Nintendo Switch, as no confirmation has been made regarding a Cloud version of the game for the system.
Hogwarts Legacy is a massive open world filled with details. As a result, it is likely to look very different from previous versions of the game, as the developers will have to optimize it for the Switch's hardware in order for it to run smoothly.
Hogwarts Legacy system requirements
Minimum:
Requires a 64-bit processor and operating system
OS: 64-bit Windows 10
Processor: Intel Core i5-6600 (3.3Ghz) or AMD Ryzen 5 1400 (3.2Ghz)
Memory: 16 GB RAM
Graphics: NVIDIA GeForce GTX 960 4GB or AMD Radeon RX 470 4GB
DirectX: Version 12
Storage: 85 GB available space
Additional Notes: SSD (Preferred), HDD (Supported), 720p/30 fps, Low Quality Settings
Recommended:
Requires a 64-bit processor and operating system
OS: 64-bit Windows 10
Processor: Intel Core i7-8700 (3.2Ghz) or AMD Ryzen 5 3600 (3.6 Ghz)
Memory: 16 GB RAM
Graphics: NVIDIA GeForce 1080 Ti or AMD Radeon RX 5700 XT or INTEL Arc A770
DirectX: Version 12
Storage: 85 GB available space
Additional Notes: SSD, 1080p/60 fps, High Quality Settings
About Hogwarts Legacy
Hogwarts Legacy
Developer(s)
Avalanche Software
Publisher(s)
Warner Bros. Games
Director(s)
Alan Tew
Producer(s)
James Cabrera
Artist(s)
Jeff Bunker
Writer(s)
Moira Squier
Composer(s)
Alexander Horowitz
Series
Wizarding World
Engine
Unreal Engine 4
Platform(s)

PlayStation 4
PlayStation 5
Windows
Xbox One
Xbox Series X/S
Nintendo Switch

Release

PS5, Windows, Xbox X/S
February 10, 2023
PS4, Xbox One
April 4, 2023
Nintendo Switch
July 25, 2023

Genre(s)
Action role-playing
Mode(s)
Single-player
Related: