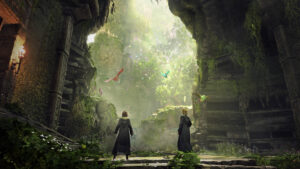 The full Hogwarts Legacy map was leaked before the game's release, giving players a look at the world they'll be able to explore.
Hogwarts Legacy map size has been leaked
As the release date of Hogwarts Legacy draws near, players are learning more and more about the game thanks to the constant stream of information, trailers, and gameplay clips being released by developer Avalanche Software. Of course, neither the map's official dimensions nor its official appearance have ever been disclosed; however, leaks do. The complete Hogwarts Legacy map was leaked in a video that was posted to Twitch but has since been removed.
#hogwartslegacy map leaked

✅ Follow us for more updates#playstationgames #playstation #gaming_news #gamingworld #PS5 #PS4 #LEAKS pic.twitter.com/O2bcojJczG

— 🎮 Nitz Playz 🎮ᅠᅠᅠᅠᅠᅠᅠᅠᅠᅠᅠᅠᅠᅠᅠᅠᅠᅠ (@nitzplayz) February 2, 2023
While the text is in German, it gives players a detailed look at the map in Hogwarts Legacy. Fans can see how the map gradually transforms from black and white to color as the player explores it.
The video reveals the many locations and areas that players will travel through during their gameplay, and it appears to be quite large, stretching all the way down the Scottish Highlands to the coast. From what we can tell from the leak, the game's world is quite complex and packed with a wide variety of activities.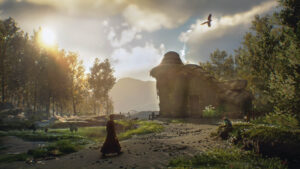 Hogwarts Legacy will be released on PC, PlayStation 5, and Xbox Series X/S on February 10. If you're looking forward to playing it, you should pre-load it now so you can get started right away.
About Hogwarts Legacy
Hogwarts Legacy
Developer(s)
Avalanche Software
Publisher(s)
Warner Bros. Games
Director(s)
Alan Tew
Producer(s)
James Cabrera
Artist(s)
Jeff Bunker
Writer(s)
Moira Squier
Composer(s)
Alexander Horowitz
Series
Wizarding World
Engine
Unreal Engine
Platform(s)

PlayStation 5
Windows
Xbox Series X/S
PlayStation 4
Xbox One
Nintendo Switch

Release

PS5, Windows, Xbox X/S
February 10, 2023
PS4, Xbox One
April 4, 2023
Nintendo Switch
July 25, 2023

Genre(s)
Action role-playing
Mode(s)
Single-player
Related: