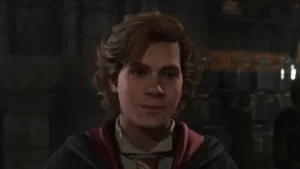 In Hogwarts Legacy, you'll encounter Gareth Weasley frequently and will have the option to help him out at various points. Is it worthwhile to assist him, though?
Should you help Gareth Weasley steal Fwooper Feather in Hogwarts Legacy ?
It's really up to you to decide what to do. You can help out and have some of the house points for Gryffindor taken away. If you come clean about what happened between you and Sharp, your own house won't lose any points.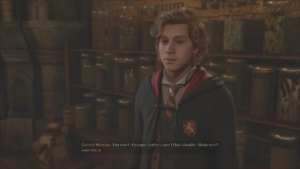 As for us, we decided to assist Gareth in gaining an advantage in the House Cup race. At the end of the day, your decision will not have a significant impact on the outcome of the story, so feel free to choose whatever option you see fit.
About Gareth Weasley
Garreth, who was born between 1874 and 1875, attended the magical school during the nineteenth century and is known for his experiments with homebrewed magical drinks. Professor Matilda Weasley, his aunt, is the Deputy Headmistress of Hogwarts. This is an important link in the game.
You meet him for the first time in the Gryffindor Common Room not long after. He'll also appear in your first Potions class, where he tries to persuade you to steal a Fwooper feather. Gareth Weasley doesn't make a strong case for himself in the early stages of the game, but he remains an important part of the main plot.
That's all there is to know about assisting Gareth Weasley in Hogwarts Legacy.
Hogwarts Legacy system requirements
Minimum:
Requires a 64-bit processor and operating system
OS: 64-bit Windows 10
Processor: Intel Core i5-6600 (3.3Ghz) or AMD Ryzen 5 1400 (3.2Ghz)
Memory: 16 GB RAM
Graphics: NVIDIA GeForce GTX 960 4GB or AMD Radeon RX 470 4GB
DirectX: Version 12
Storage: 85 GB available space
Additional Notes: SSD (Preferred), HDD (Supported), 720p/30 fps, Low Quality Settings
Recommended:
Requires a 64-bit processor and operating system
OS: 64-bit Windows 10
Processor: Intel Core i7-8700 (3.2Ghz) or AMD Ryzen 5 3600 (3.6 Ghz)
Memory: 16 GB RAM
Graphics: NVIDIA GeForce 1080 Ti or AMD Radeon RX 5700 XT or INTEL Arc A770
DirectX: Version 12
Storage: 85 GB available space
Additional Notes: SSD, 1080p/60 fps, High Quality Settings
About Hogwarts Legacy
Hogwarts Legacy
Developer(s)
Avalanche Software
Publisher(s)
Warner Bros. Games
Director(s)
Alan Tew
Producer(s)
James Cabrera
Artist(s)
Jeff Bunker
Writer(s)
Moira Squier
Composer(s)
Alexander Horowitz
Series
Wizarding World
Engine
Unreal Engine 4
Platform(s)

PlayStation 4
PlayStation 5
Windows
Xbox One
Xbox Series X/S
Nintendo Switch

Release

PS5, Windows, Xbox X/S
February 10, 2023
PS4, Xbox One
April 4, 2023
Nintendo Switch
July 25, 2023

Genre(s)
Action role-playing
Mode(s)
Single-player
Related: