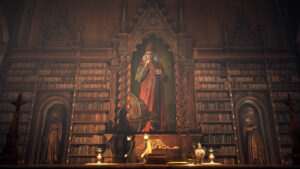 Finding a happy medium between the tried-and-true and a few tweaks is the key to the best Hogwarts: Legacy controller settings.
Best controller settings in Hogwarts Legacy
The full list of settings and the options associated with them can be found below.
Controller Vibration – Optional
Motion Sensor Function – Off
Invert Camera X-Axis – Off
Invert Camera Y-Axis – Off
Invert Flight Controls – Option (off by default)
Camera-Relative Targeting – On
Camera Sensitivity – 1
Aiming Sensitivity – 1
Camera Acceleration – 1
Aiming Acceleration – 1
Follow Camera Speed – 1
Two of the above settings are highly subjective. The first is the overall sensitivity and acceleration. It feels fantastic in the default "1" setting, but some players may want to move the camera faster, which is perfectly fine. The other option is camera-relative targeting, which allows us to more precisely pinpoint targets in view. Turning it off, on the other hand, allows for off-screen targeting. In Hogwarts Legacy, everything is up to you, but we still recommend relative targeting for your controller settings.
Hogwarts Legacy system requirements
Minimum:
Requires a 64-bit processor and operating system
OS: 64-bit Windows 10
Processor: Intel Core i5-6600 (3.3Ghz) or AMD Ryzen 5 1400 (3.2Ghz)
Memory: 16 GB RAM
Graphics: NVIDIA GeForce GTX 960 4GB or AMD Radeon RX 470 4GB
DirectX: Version 12
Storage: 85 GB available space
Additional Notes: SSD (Preferred), HDD (Supported), 720p/30 fps, Low Quality Settings
Recommended:
Requires a 64-bit processor and operating system
OS: 64-bit Windows 10
Processor: Intel Core i7-8700 (3.2Ghz) or AMD Ryzen 5 3600 (3.6 Ghz)
Memory: 16 GB RAM
Graphics: NVIDIA GeForce 1080 Ti or AMD Radeon RX 5700 XT or INTEL Arc A770
DirectX: Version 12
Storage: 85 GB available space
Additional Notes: SSD, 1080p/60 fps, High Quality Settings
About Hogwarts Legacy
Hogwarts Legacy
Developer(s)
Avalanche Software
Publisher(s)
Warner Bros. Games
Director(s)
Alan Tew
Producer(s)
James Cabrera
Artist(s)
Jeff Bunker
Writer(s)
Moira Squier, Genese Davis
Composer(s)
Alexander Horowitz
Series
Wizarding World
Engine
Unreal Engine 4
Platform(s)

PlayStation 4
PlayStation 5
Windows
Xbox One
Xbox Series X/S
Nintendo Switch

Release

PS5, Windows, Xbox X/S
February 10, 2023
PS4, Xbox One
April 4, 2023
Nintendo Switch
July 25, 2023

Genre(s)
Action role-playing
Mode(s)
Single-player
Related: