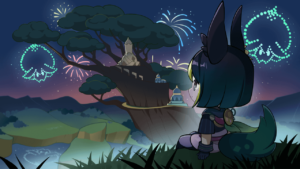 Starlit Sky is a one-time web event hosted by HoYoLab on the Genshin Impact website. Continue reading to learn more about the Genshin Impact Starlit Sky event guide, including an overview, rewards, and some helpful tips.
Genshin Impact: Starlit Sky Event Guide & Tips
The event will occur between February 5, 2023 and February 11, 2023. The winners of the Prize Draw will be announced on February 13, 2023. From the 5th to the 19th of February, 2023, Adventure rank 10 or higher players are eligible to participate and claim in-game rewards.
"Starlit Sky" — Genshin Impact's Firework Card Collecting and Trading Web Event

Click to Take Part in Event>>> https://t.co/cbsyBCmSPA#GenshinImpact #HoYoverse pic.twitter.com/cRETCAHZuO

— Genshin Impact (@GenshinImpact) February 5, 2023
How to Join in the Starlit Sky
You can join the event via the in-game mail sent to players, or via the Special Events Button in the Paimon Menu once it becomes available. You can also join through Genshin's official social media accounts or this link.
How to Play Starlit Sky Web Event
To begin collecting Firework Cards, simply press the Look for Firework Cards button to receive one random card. Even if you already have the same card in your inventory, you can get it again.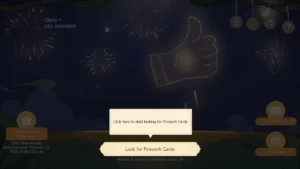 When you get a card, you can share the link with your friends or save it in your inventory!
You are initially given ten chances to obtain Firework Cards. If you've exhausted your chances, you can still earn more by completing Daily Tasks on the bottom right!
If you're looking for a particular card, you can also trade it with your friends by using the Swap Card button in your Card Inventory! You must give the card in order to receive one.
When you have collected all 11 Fireworks Cards, you can enter the Grand Prize Draw. Go to Card Inventory and enter the raffle for a chance to win a console and mobile device! Make sure to use your correct HoYoverse UID when logging in.
Event Rewards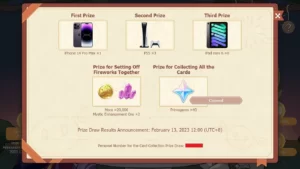 Card Collection Prize Draw Rewards
Starlit Sky Prize Draw Rewardss
First Prize
iPhone 14 Pro Max
Second Prize x3
PS5
Third Prize x6
iPad mini 6
In-Game Rewards
Objectives
Rewards
Setting off Fireworks Together

Mora x20,000

Mystic Enhancement Ore x2

Collect all Cards

Primogem x40
That should cover everything you need to know about Genshin Impact's Starlit Sky Web Event.