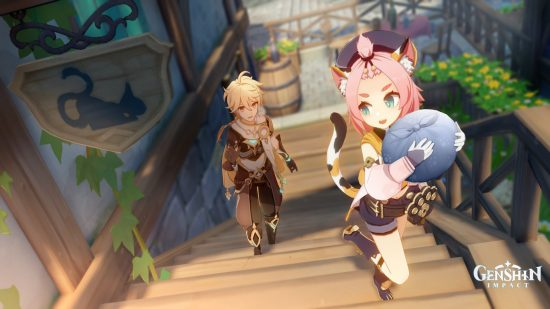 Genshin Impact rumored trading card game release date
A new Genshin Impact rumored trading card game which is reportedly coming to the RPG sometime after Genshin Impact 3.0 wraps up, though this latest rumor says it could be quite some time while after 3.0.
Update, it seems as though although there's a bunch more mentions of TCG in 3.2, the release of TCG will be in 3.3.

I will share some details about how TCG works and what you can expect from it in the next few tweets so get ready for a bit of spam (sorry in advance) https://t.co/9rsds5xRye

— UBatcha (@Ubatcha1) September 12, 2022
The leak comes from a user on the Wangsheng Funeral Parlor Discord server (via Reddit). The Genshin Impact trading card game is likely to release sometime after Genshin Impact 3.1 .
One Twitter user focused on Genshin Impact leaks and data mines. This user tweeted this week that the 3.1 update will make players "finally able to play the TCG" before providing more details on the plans for the trading card game.
In 3.1 we will finally be able to play TCG.
New permanent game mode.
It will be PvE and maybe even PvP 👀.
Weakly player vs npc battles (new battle pass xp source ig).

— Mero (@merlin_impact) August 19, 2022
In order to win a game of TCG, you simply have to defeat all of your opponents character cards. Rounds go as follows: Roll, take actions, End turn. [1/2]

— UBatcha (@Ubatcha1) September 13, 2022
Genshin Impact wiki :
Genshin Impact is an Action RPG developed and published by miHoYo. The game features an open-world environment and action-based battle system that uses elemental magic and character swapping, and utilizes gacha game monetization for players to gain new characters, weapons, and other resources.
Developer(s)
miHoYo
Publisher(s)
miHoYo
Producer(s)
Cai Haoyu
Composer(s)
Yu-Peng Chen
Dimeng Yuan
Yijun Jiang
Qian Ding
Xin Zhao
Engine
Unity
Platform(s)

Android
iOS
Microsoft Windows
PlayStation 4
PlayStation 5
Nintendo Switch

Release

Android, iOS, Windows, PS4
September 28, 2020
PlayStation 5
April 28, 2021
Nintendo Switch
TBA

Genre(s)
Action role-playing
Mode(s)
Single-player, multiplayer