It's not just Alhaitham in the upcoming 3.4 update that has the Genshin Impact community excited; they're also way too horny.
Genshin Impact players are way too horny for Alhaitham
Alhaitham, a user of the Dendro sword integral to the plot of the Sumeru region, will be released alongside update 3.4 of Genshin Impact in the coming days. It was only last night that a teaser for his character was released, and readers, I don't think I've ever seen the community of this game react so openly, frothingly horny.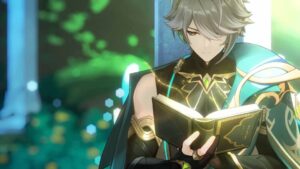 The impending release of Alhaitham and a new character trailer seem to have stoked the fires of rabidness that have been smoldering for months. And I won't even begin to discuss the intricate illustration that was casually inserted into the 3.4 livestream, much like Tifa Lockhart fan art into an Italian senator's presentation.
In Alhaitham's presence, I've witnessed happily married men nearly forget their wives. I've witnessed Zyox, a renowned Xiao advocate and popular guide author, ogle the man for seven consecutive minutes. When I went to view Alhaitham's trailer last night, the first comment that greeted me was "I BARK FOR HIM." A harmless Twitter search for Alhaitham returns fan art and fan fiction that leaves no room for the imagination. The desire for this objectively attractive man is difficult to overstate.
New washboard belly soon, sorry Itto 😅#Alhaitham #Genshinlmpact pic.twitter.com/2SQTruUxxl

— Shmolo (@shmolo_) January 10, 2023
first alhaitham of 2023 pic.twitter.com/dMKO1qopms

— jianrou | zine grind (@rourouki) January 8, 2023
What is it that makes Alhaitham so special? Alhaitham's attack animations are slick, and Dendro characters in general are exciting. He is also an intelligent mastermind. Alhaitham's relationship with and opinion of the Dendro god Nahida is also one of the most intriguing among the main characters, giving him a unique and compelling perspective on numerous story quests. He is also the most muscular playable character Genshin has ever had, despite being a reclusive writer by appearance. I mean, you don't get shoulders like that, abs like that, and a back like that by reading books.
So to recap: Alhaitham is a tall, handsome, well-built, intellectual, mysterious bookworm who wields two swords and possesses the skills and confidence to overthrow a state governed by a secret police.
Okay, I'm starting to understand. As expected, Genshin fans.