This article will go over everything we know about Mika in Genshin Impact so far, including his release date as a playable character, rarity, character build, and more.
Genshin Impact Mika release date
According to leaks, Mika will be released in the 3.5 updates, alongside a rerun of Eula and possibly an event or map expansion for Mondstadt. For the time being, he will serve as an NPC in the Mondstadt storyline revolving around Weinlesfest.
Rarity
Mika's rarity has not been confirmed by Hoyoverse, but he will likely be 4-star and may appear on an Eula rerun banner. Her rerun has been suggested by leaks, which makes sense given that she has not recently appeared. Given their history together, it makes sense to include Mika on her banner.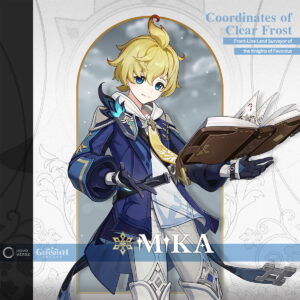 Intriguingly, the last Mondstadt 5-star to be released was Eula in early 2021, so players desire Mika to be a 5-star as well, despite the fact that they share the same story, Vision, and rarity.
Character build
Vision
Mika's Vision had been the subject of some speculation, but now that he has been seen in the 3.1 Weinlesefest event, it is evident that he has a Cryo vision on his hand.
Weapon
No one knows what Mika's weapon is. There is, however, a free Polearm called Missive Windspear that you can get at the Weinlesefest. This could mean that Mika will use a polearm, but it's more likely that Cyno and Candace will use it instead, since they're both new to polearms. Leaks have shown that Mika may use a Polearm, but this is subject to change.
About Genshin Impact
Genshin Impact
Developer(s)
miHoYo
Publisher(s)
miHoYo
Producer(s)
Cai Haoyu
Composer(s)
Yu-Peng Chen
Dimeng Yuan
Yijun Jiang
Qian Ding
Xin Zhao
Engine
Unity
Platform(s)

Android
iOS
PlayStation 4
Windows
PlayStation 5
Nintendo Switch

Release

Android, iOS, PS4, Windows
September 28, 2020
PlayStation 5
April 28, 2021
Nintendo Switch
TBA

Genre(s)
Action role-playing
Mode(s)
Single-player, multiplayer