Even though Baizhu is a doctor and the owner of Bubu Pharmacy, he won't be a healer in Genshin Impact, as evidenced by the leaks.
Genshin Impact leaks suggest Baizhu will not be added as a healer
From what we've heard in the latest Genshin Impact leaks, it appears that Bubu Pharmacy's boss, Baizhu, won't be the healer that players were hoping for. Given that Baizhu has spent a lot of time talking about medicine and that Bubu Pharmacy is widely considered to be the best pharmacy in all of Liyue, this is, to say the least, unexpected. However, it appears that he will add a new kind of support to the ever-expanding characters roster in the anime game.
If the leaks are true, Baizhu will not be a healer but a shielder. His elemental ability creates a shield, and there is a hold variation of it. Diona and Zhongli, two of the best shielders in the game, both have elemental skill sets that sound very similar to this one.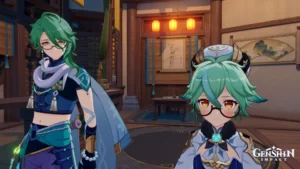 Similar to Wanderer, Baizhu is listed as a user of the five-star Dendro catalyst, so his Vision shouldn't be affected. His attacks and animations all involve snakes or snake-like creatures, which is likely a reference to Changsheng, the snake that is constantly wrapped around Baizhu's neck, and to the real-life prevalence of snakes on medical symbols. In case you didn't notice, the doctor has snake-like pupils in his eyes.
Finally, he has a skill that makes him seem tailor-made for a Dendro character by allowing him to convert a portion of his attack stat into elemental mastery.
In sum, Baizhu appears to be a combination of support and low-to-moderate DPS. Since the recently released Yaoyao is a Dendro healer, another shielder would give us even more options within the Dendro class.
We're not even halfway through Genshin Impact version 3.4, and it's unlikely that Baizhu will arrive until version 3.6. You can still prepare for the arrival of Hu Tao and Yelan by storing Primogems and using the current Genshin Impact banners for characters like Alhaitham and Xiao.
About Genshin Impact
If you're unfamiliar with Genshin Impact, it's currently available for PC, PS4, PS5, iOS, and Android. A Nintendo Switch version was announced a long time ago, but HoYoverse has remained silent about it, despite confirming multiple times that it has not been canceled. We'll have to wait and see if 2023 truly marks the arrival of Genshin on Nintendo's console.
Genshin Impact
Developer(s)
miHoYo
Publisher(s)
miHoYo
Producer(s)
Cai Haoyu
Composer(s)
Yu-Peng Chen
Dimeng Yuan
Yijun Jiang
Qian Ding
Xin Zhao
Engine
Unity
Platform(s)

Android
iOS
PlayStation 4
Windows
PlayStation 5
Nintendo Switch

Release

Android, iOS, PS4, Windows
September 28, 2020
PlayStation 5
April 28, 2021
Nintendo Switch
TBA

Genre(s)
Action role-playing
Mode(s)
Single-player, multiplayer