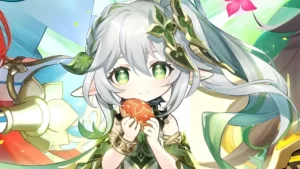 Here are all the Genshin Impact banner leaks for updates 3.5, and 3.6 for the 2023 schedule, as well as Dehya and Mika's splash art, release date, and abilities..
Genshin Impact 3.5 character , Banner Leaks
According to the leaks, we can expect the following Genshin Impact 3.5 banners:
Genshin Impact Dehya banner
Genshin Impact Mika (4-star)
Genshin Impact Eula banner rerun
Genshin Impact Shenhe banner rerun
Genshin Impact Ayaka banner rerun
Genshin Impact 3.6 character , Banner Leaks
The first Dendro character the player comes into contact with is Baizhu, the owner of the Bubu pharmacy in Liyue and the caretaker of the five-star Cryo Sword character Qiqi. Players have been exposed to Baizhu multiple times, and it looks like Dendro will finally make his playable debut in the Version 3.6 update.
The five-star Hydro Sword character Nilou
The five-star Dendro Catalyst character Nahida
The five-star Cryo Sword character Kamisato Ayaka
The following is the leaked Genshin Impact banner schedule for 2023, from February to April, with the next three updates.
February 2023

Update 3.4 phase 2 – Hu Tao rerun
Update 3.4 phase 2 – Yelan rerun

March 2023

Update 3.5 – Dehya and Mika
Update 3.5 – Eula, Shenhe, Ayaka (rerun possibilities)

April 2023

Update 3.6 – Baizhu and unnamed new character
Update 3.6 – Nahda rerun possibility
Genshin Impact 3.5 Returning events
Several other events have also been hinted at. Fantastic Fungus Frenzy from v3.2 appears to have been upgraded to Shroom Tower Defence, with Spices from the West and Vibro-Crystal Research also returning. The 3.5 update will also include a Pac-Man-style mode with numerous maps. Eula, Kokomi, and Sara will be added to the minigame in the TCG mode as well.
3.5 pacman-like activity via Genshin Yuban from Genshin_Impact_Leaks
Mika and Dehya release date
According to leaks, Mika and Dehya will be released on March 1st.
Mika and Dehya splash art
GenshinImpact's official Twitter account revealed these characters would be included in the next update.
Dheya, from the Mantichora constellation, is a 5-stars pyro character with the nickname "Flame-Mane." You've already met her in the most recent chapters of the story that take place in Sumeru.
Known as "Coordinates of Clear Frost," Mika Schmidt is a 4-stars cryo character associated with the Palumbus constellation who is described as the "Front-Line Land Surveyor of the Knights of Favonius." He's part of Eula's Reconnaissance Company.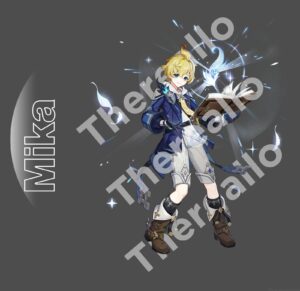 Abilities
Aside from splash art, leaks provide us with our first glimpse of their potential abilities and skills. The following is allegedly Dehya's kit:
Elemental Skill:

Inserts her Claymore into the ground to make a grave
Attacking within range of grave creates co-ordinated attacks
Grave provides a defense buff
Has 15 seconds duration

Elemental Burst – Bladestorm

Deals fixed amounts of DMG every 0.4 seconds over 3.5 seconds burst duration
Gives her three unique 'jumps'
These jumps appear to be forms of teleportation/phasing
Deals AoE level 2 impulse pryo DMG in a 4m radius
When burst ends she deals a 4m high Pyro AoE attack that deals impulse type 5 damage in a 6m radius
As for Mika, all that has possibly been revealed is that holding Q heals everyone in a party, while holding E fires "some sort of bullet" and leaves a target mark for enemies.