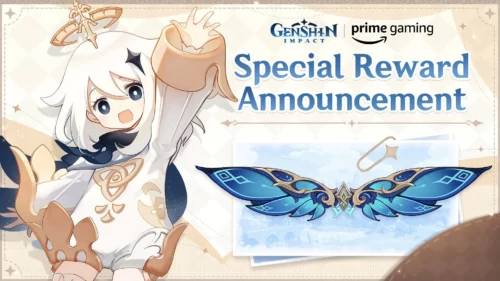 If you're wondering how to get the Wings of the Starlit Feast Glider in Genshin Impact, you've come to the right place.
How to get the Wings of the Starlit Feast Glider in Genshin Impact
This Pizza Hut-inspired glider will be distributed as a loot reward through Amazon's Prime Gaming. For a while, Genshin Impact has been receiving special Prime Gaming codes (granting Primogems, Resin, and other rewards), and these wings will be sent to players who have used them.
Get the Brand New Wings of the Starlit Feast to Enrich Your Adventures~ | Genshin Impact x Prime Gaming

For full details of the event, please visit
> > > https://t.co/Bh2ZMCqXzq#GenshinImpact #HoYoverse pic.twitter.com/w3Hg5gcS6R

— Genshin Impact (@GenshinImpact) February 17, 2023
To obtain the wings, simply use at least four of the eight different Prime Gaming Bundles distributed. Because each account can only redeem one bundle code per period, they must all be from different months. After all eight codes have been distributed, the Wings of Starlit Feast will be automatically sent to players who have redeemed enough of them via in-game email.
If you have an Amazon Prime Subscription, you can get your Genshin Impact (and other gaming loot) from their official website. To redeem the code, go to Genshin's official website or directly through the game by going into Settings > Account > Redeem Code.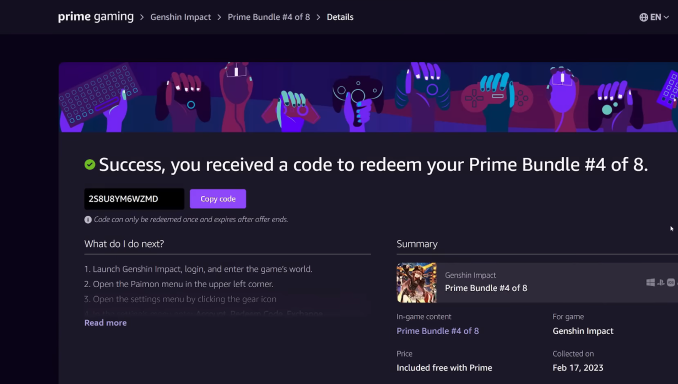 According to the official announcement, the last Prime Gaming code expires on May 31, implying that the glider should be available for the America, Europe, Asia, and TW, HK, and MO servers after that date.
About Genshin Impact
Genshin Impact is an action role-playing game developed and published by miHoYo. It was made available for Android, iOS, PlayStation 4, and Windows in 2020, PlayStation 5 in 2021, and Nintendo Switch in 2022.
Genshin Impact
Developer(s)
miHoYo
Publisher(s)
miHoYo
Producer(s)
Cai Haoyu
Composer(s)
Yu-Peng Chen
Dimeng Yuan
Yijun Jiang
Qian Ding
Xin Zhao
Engine
Unity
Platform(s)

Android
iOS
PlayStation 4
Windows
PlayStation 5
Nintendo Switch

Release

Android, iOS, PS4, Windows
September 28, 2020
PlayStation 5
April 28, 2021
Nintendo Switch
TBA

Genre(s)
Action role-playing
Mode(s)
Single-player, multiplayer