Genshin Impact players are currently attempting to have the new character Dehya buffed by flooding developer Hoyoverse with "#FixDehya" social media posts.
Genshin Impact fans are demanding HoYoverse fix Dehya with the hashtag #FixDehya
Players of Genshin Impact haven't been happy with Dehya, a 5-Star Pyro character, since before she came out. But now that she's in the game and people have played her, players are asking for changes on social media.
It all started when a user replied to an official Genshin Impact post with the hashtag #FixDehya and attached an image with some of their demands for Dehya's kit changes. 
#FixDehya pic.twitter.com/5mDLDwoYB9

— daily dehya ✦ (@dailydehyaa) March 6, 2023
Changes include increasing the frequency with which her skill hits to one time per second, which is comparable to other units in the game. Another suggestion was to make her burst attacks count as normal attacks, which is a major flaw in her kit that prevents her from being used effectively with many of the game's supports.
The last major changes dealt with damage scaling and improving her tanking ability to put her on par with other 5-Star characters in the game. There's also a note about decreasing her knockback to make some things easier to land.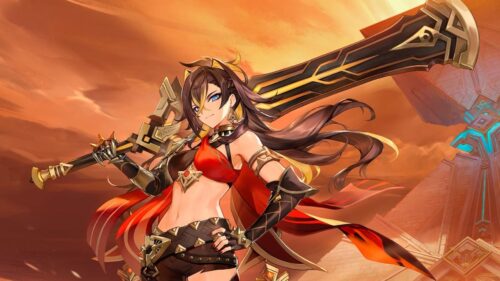 Other hashtags included #BuffDehya, #JusticeForDehya, and #SaveDehya. Hoyoverse has not commented on the outrage that has erupted in the community in the aftermath of Dehya's release. Given her status as a 5-Star character that is difficult to obtain, she simply does not match the power of the other 5-Star units in the game.
About Genshin Impact
Genshin Impact is an action role-playing game developed and published by miHoYo. It was released in 2020 for Android, iOS, PlayStation 4, and Windows, followed by PlayStation 5 in 2021 and Nintendo Switch in 2022.
Related: