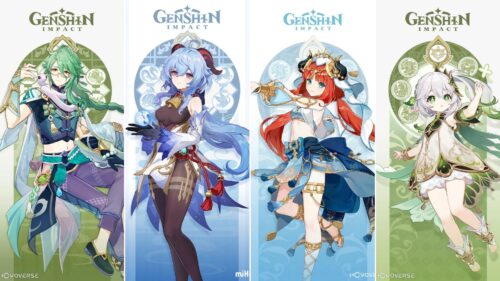 This article will go over all Genshin Impact leaks about the upcoming banners in the next three updates, which are 3.6, 3.7, and 3.8.
Genshin Impact 3.6 banners leaks
Version 3.6 of Genshin Impact will introduce Kaveh as the next playable character. According to rumors, he may have a role in the game that involves buffing other Dendro characters. He is also a well-known Sumeru architect who designed buildings such as the Palace of Alcazarzaray, one of the most recognizable landmarks in the Dendro region.
◆ Kaveh
◆ Empyrean Reflection
◆ Renowned Sumeru Architect
◆ Dendro
◆ Paradisaea#GenshinImpact #HoYoverse #Kaveh pic.twitter.com/lzEzKSW59o

— Genshin Impact (@GenshinImpact) February 24, 2023
Baizhu, like Kaveh, is one of the Dendro characters who will be introduced in version 3.6. Baizhu (and that midriff) have piqued the interest of fans since his appearances in early Liyue quests in the game. As a premier Dendro character, Baizhu should be able to breathe new life into the game.
◆ Baizhu
◆ Beyond Mortality
◆ Owner of Bubu Pharmacy
◆ Dendro
◆ Lagenaria#GenshinImpact #HoYoverse #Baizhu pic.twitter.com/VZJYnkPnw1

— Genshin Impact (@GenshinImpact) February 24, 2023
The developers have not yet announced the remaining update banners for Genshin Impact 3.6. Currently, Nahida has the best chance of receiving a banner in the upcoming version. The first rerun of the three previous Archons occurred only four updates after their debut. If HoYoverse maintains this pattern, the Dendro Archon will likely return with the 3.6 update.
Updated SYP 3.6-3.8 banner predictions
by u/isteyp in Genshin_Impact_Leaks
According to numerous reliable leakers, there are four other characters, including Nilou, who have a good chance of getting a rerun.
A new thread on the Genshin Impact Leaks subreddit reveals which three characters will get re-runs in the next update. According to the post, Ganyu, Nahida, Nilou, and the new character Baizhu will be the five-star characters featured on the Limited Character Banner in Genshin Impact update 3.6. Baizhu and Ganyu will appear in the first banner cycle, while Nahida and Nilou are expected to appear in the second part of the update.
私が順序は不定と言った通り最終的には以下になる⬇️
As I said, the order is indefinite, in the end it will be below:

3.6ガチャ:
前半:ナヒーダ+ニィロウ
後半:白朮+甘雨+カーヴェ

3.6 banners:
1st: Nahida+Nilou
2st: Baizhu+Ganyu+Kaveh

Via vississ&Tao pic.twitter.com/reuVuEiqxC

— 往生堂七十七代目堂主胡桃 (@HutaoLover77) March 14, 2023
Also, a leak from @Genshin_Intel reveals the potential Blessings of the Abyssal Moon for v3.6's Spiral Abyss, which appears to favor Bloom reaction DMG. Based on this information, leakers believe that Nilou will appear alongside Baizhu in the next version.
3.6 Spiral Abyss:

P1 – Active character losing HP triggers a shockwave
P2 – After triggering Bloom, +35% DMG for characters' Bloom, Hyperbloom & Burgeon for 6s. Max 4 stacks
P3 – Taking DMG from Dendro Cores (including via Hyperbloom & Burgeon) adds 200EM for whole party for 4s

— Genshin Intel (@Genshin_Intel) March 1, 2023
To hear official announcements from developers, we must wait for the version 3.6 Special Program, which is expected to be livestreamed on March 30, 2023, at 7:00 am (UTC+8).
Genshin Impact 3.7 banners leaks
According to leaks, the Ayaka rerun will be available in the 3.7 update, which will coincide with HoYoverse's big Inazuma event. Also revealed, and related to the previous leak, is the possibility of seeing the Cryo Princess of Genshin Impact again.
News on 3.7 and Ayaka
by u/ukrisreng in Genshin_Impact_Leaks
Additionally, one of the most trustworthy leakers in the community, SpendYourPrimos, has revealed that a new Geo character from Inazuma will be included in Genshin Impact version 3.7, which is expected to release around April 20 based on the game's regular update schedule. According to some leaks, she will be 5-stars mysterious cat girl character named Momoka.
【原神リーク】

🔻恒常ガチャ追加について🔻

ver3.7に予定されている猫耳少女(岩元素)は恒常ガチャに追加される可能性があります。
また、スメールには新キャラクター(弓)が残されており
どちらか一方が恒常ガチャに追加されます。

via Team China#原神#GenshinImpact pic.twitter.com/ulsB0U3HH6

— れい@原神リーク (@Ray_genshin_) February 18, 2023
A leak also reveals several different angles of Momoka's in-game model. Her design and color scheme are very similar to the character description provided by SYP. The card icon shown below is merely a mockup, but everything else should be correct.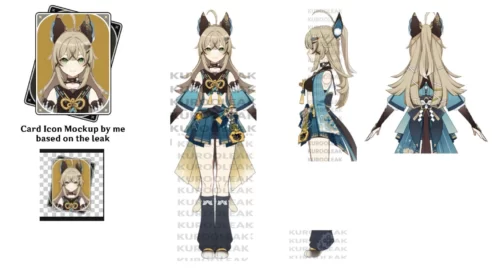 Many leakers predicted that Momoka would appear in Genshin Impact 3.7. However, it's not clear whether Momoka will be playable in the first or second half of the version. Estimated release dates for her include the following:
If she will be released in the first half: ~May 24, 2023
If she will be released in the second half: ~June 14, 2023
The above dates are estimates based on the current 42-day cycle for version updates and the average lifespan of banners of 21 days. HoYoverse has yet to reveal any details about Genshin Impact 3.7.
Genshin Impact 3.8 banners leaks
According to the latest information from the leaker collective Team China, no new characters will be added to Genshin Impact 3.8. The leak suggests that the Inazuma character known only as "Electro" does not appear in the game, despite the fact that others have independently confirmed Electro's presence.
It has been speculated that the release of the Electro character, originally scheduled for patch 3.8, may have been delayed, and well-known leaker Tao has stated that this speculation may be correct. The Genshin Impact Version 3.8 update is set to be released in July.
TCによると奇妙だが3.8には新キャラはいないはずだ
あの星4の稲妻雷少女は存在しないと思う

リマインド:
uncle A、SYP、taoは彼女の存在を確認済み

※情報が錯綜してるため話半分で受け取ってください
また、彼女が3.8実装との情報はNGAでの噂であるため"3.8新キャラなし"は正しいかもしれません pic.twitter.com/xFAYjPaSzT

— 往生堂七十七代目堂主胡桃 (@HutaoLover77) March 30, 2023
Genshin Impact Arlecchino
It seems that some new details about the Genshin Impact character Arlecchino have leaked online, giving players a sneak peek at what they can expect when she finally makes her debut. Arlecchino, for those who are unaware, is one of Tsaritsa's Eleven Fatui Harbingers.
This description was originally written in Chinese by Team China and translated by the Genshin Impact leaks subreddit.
Arlecchino appearance description via Team China
by u/vivliz in Genshin_Impact_Leaks
"Black white gray with some red, a regular suit without a fur collar, has a tail like tailcoats. No hat, has a very pretty hair accessory, should be wearing regular heels."
The appearance of Arlecchino in A Winter Night in Lazzo is fairly accurate, though some of her clothing in the film resembled that of the other Eleven Fatui Harbingers. So, when she finally appears in the game, her appearance may change slightly.
Genshin Impact 3.5 new characters & banners
New characters
Dehya: A new 5-star Pyro Claymore character who focuses on reducing damage for herself and her team while dealing massive damage.
Mika: A 4-star Cryo Polearm character specializing in support and buffs for Physical characters.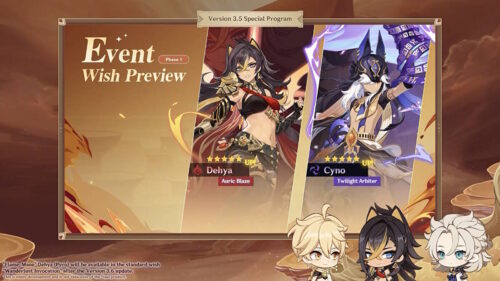 Upcoming banners
Dehya, Cyno
Kamisato Ayaka, Shenhe
Mika, Dinoa, Sucrose (leaked)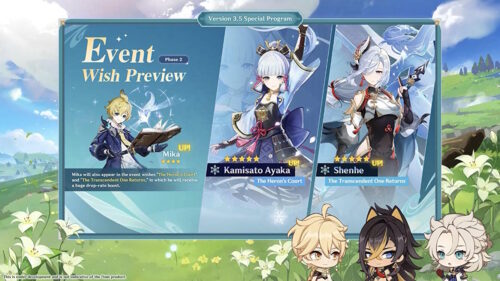 Mika will also be featured in this banner as a rate-up 4-star character. After the 3.5 update, he will be added to the standard pool of characters. Dehya will also be appearing under the Wanderlust Invocation banner.
New content & story quests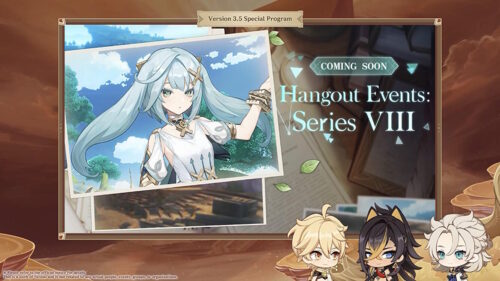 Phase one of events will explore the lore of Genshin Impact through two questlines. Dehya, the newly introduced character, gets her own Story Quest called Manichora Chapter. It is available to players who have completed Archon Quest Chapter III: Act V and are above AR 40.
Speaking of Archon Quests, Act VI: Caribert is also updated. This chapter will feature Kaeya, another Khaenri'ah character, finally interacting with his compatriot. There is also a new Cryo Abyss Herald and a new type of Black Serpent Knight foe. To access this chapter, adventurers must have completed the Akasha Pulses and Kalpa Flame Rises missions and be at least level 35.
New events
Windblume's Breath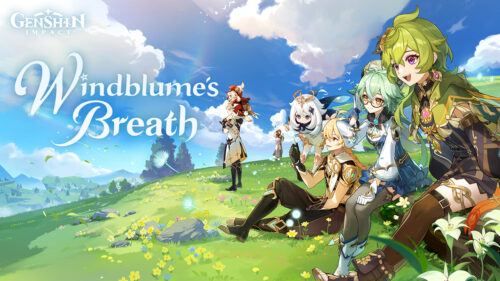 The main event is Windblume's Breath, which marks the return of the Windblume's Festival. Players can participate in different gameplay modes such as Ballads of Breeze, Floral Pursuit, and Breezy Snapshots, which will grant them Primogems and the exclusive Mailed Flower Claymore.
Spices from the West: Northerly Search 
More events will be added later in the update, such as Spices from the West: Northerly Search, an updated version of a previous cooking event.
Genshin Impact Fungus Mechanicus
The Fungus Mechanicus minigame also combines two older events, combining the Pokemon-like combat of the Fungi event with the tactical Theather Mechanicus.
Vibro-Crystal Verification
Another event called Vibro-Crystal Verification will be included in version 3.5. Adventurers will be tasked with completing tasks that require the use of a Vibro-Crystals Harmonics Schema. To earn rewards such as Primogems, Hero's Wit, and Weapon Ascension Materials, they must defeat all enemies within the time limit.
Other updates
The Genius Invokation Trading Card Game is also being updated. The addition of Eula, Sangonomiya Kokomi, and Kujou Sara cards will undoubtedly cause a meta shift in the game. The Heated Battle mode will also be available, with all Elemental Dice costs temporarily reduced.
The most important change is the addition of Intertwined Fates as rewards for Archon Quests. Following the update, you can claim all Fates from previously completed quests and redeem 1 extra Fate from the Adventurer's Book for each chapter completed.
That's everything we know about the upcoming banners leaks in Genshin Impact 3.6, 3.7, and 3.8.