Check out this Genshin Impact Blazin' Trails Guide to help you change the style and height of the mountains in the Broken Isle area.
Genshin Impact Blazin' Trails guide – How to change mountain style and height in the Broken Isle area
First, you need to complete the Blazin` Trails quest until you meet Frozen Soul. This includes the following tasks:
Entering the mirage domain to meet Blazing Heart, a giant flower.
Learning how to use Melodic Harps and Melodic Pedals.
Removing impediments to water vein flow and obtaining Glacial Spring Water
A bit of filler about Xinyan and her memories of the past.
After that, Blazing Heart will tell you about Frozen Soul. This giant flower can grant you access to the main chamber's upper levels. Activate the Melodic Harp, ride the wind current, and strike the nearest upper level drum.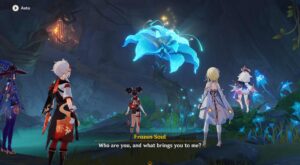 Follow the newly formed bridge to Frozen Soul's room. Following the conversation, proceed to the indicated location and use Frozen Soul's Petal. The heights of the mountains will shift as a result of this. You'll need to clear the flow of water veins once more.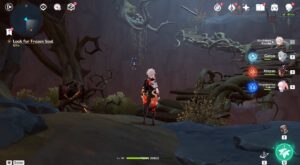 Interact with the main drum on Broken Isle's northern beach to change the style and height of the island's mountains.
There are two variants:
Variant #1: Tall mountains – This is the default version with several towering mountains.
Variant #2: Mini mountains – The two mountains to the northeast and east are average in height. Near the main land, there is a much smaller mountain.
Explore these locations at your leisure to find additional puzzles and loot. A good example is when the western mountain shrinks. This will reveal a tunnel leading to the bottom, where you can solve a totem puzzle to obtain a secret Phantasmal Conch.
Genshin Impact Wiki
Genshin Impact
Developer(s)
miHoYo
Publisher(s)
miHoYo
Producer(s)
Cai Haoyu
Composer(s)
Yu-Peng Chen
Dimeng Yuan
Yijun Jiang
Qian Ding
Xin Zhao
Engine
Unity
Platform(s)

Android
iOS
Microsoft Windows
PlayStation 4
PlayStation 5
Nintendo Switch

Release

Android, iOS, Windows, PS4
September 28, 2020
PlayStation 5
April 28, 2021
Nintendo Switch
TBA

Genre(s)
Action role-playing
Mode(s)
Single-player, multiplayer