Here are the known details about the leaked collaboration between Fortnite and Family Guy, a well-known animated comedy series.
Fortnite x Family Guy leaked collaboration
According to leaker Shiina, Epic Games is working on a male skin codenamed "French Fry," which is thought to be related to Family Guy and could be a Peter Griffin skin.
Epic is currently working on a male skin codenamed "FrenchFry" 👀

The FrenchFry codename is most likely used for an upcoming Family Guy collaboration in Fortnite!

(via @FN_Assist & @GMatrixGames) pic.twitter.com/oVRtLMaoBB

— Shiina (@ShiinaBR) January 12, 2023
One of the main reasons this is being associated with Family Guy is due to the Unreal Engine leak back in April 2022, which revealed a variety of Fortnite collaborations. Fortnite UE leaks included collaborations that have since been revealed, such as Indiana Jones and Star Wars. The only unreleased collaboration from this leak is for Family Guy, hence the speculation.
A sprite sheet for #Fortnite X Family Guy was leaked in Feb 2021 along with the codename "FrenchFry", since used for all toon & anime effects.

Epic appears to be working on a FrenchFry Male skin (Peter Griffin?) + Family Guy is the only remaining collab from the UE trailer leak. https://t.co/5tOlN7hBHr pic.twitter.com/onNapGNrKh

— FNAssist (@FN_Assist) January 12, 2023
With that said, it appears that a Family Guy collaboration is on the way, but how soon can fans anticipate the crossover?
Fortnite x Family Guy crossover release date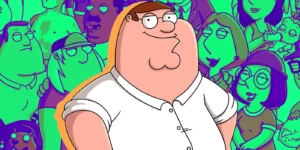 Shiina responds sarcastically in the comments section of her Twitter post to a user who says the collaboration will "never happen," with a gif of Peter Griffin dancing and the comment "you on March 11." This would imply that the leaker believes the Fortnite x Family collaboration will be released on
March 11, 2023
. However, this is not an official statement, so take it with a grain of salt.
About Fortnite
Fortnite is a 2017 online video game developed by Epic Games. It has three game modes with the same gameplay and engine: Fortnite Battle Royale, a free-to-play battle royale game with up to 100 players; Fortnite: Save the World, a cooperative hybrid tower defense-shooter and survival game where up to four players fight zombie-like creatures and defend objects with traps and fortifications they build; and Fortnite Creative, where players can freely create worlds and battle arenas.
Fortnite
Genre(s)
Survival, battle royale, sandbox
Developer(s)
Epic Games
Publisher(s)
Platform(s)
Windows
macOS
Nintendo Switch
PlayStation 4
PlayStation 5
Xbox One
Xbox Series X/S
iOS[b]
Android[b]
First release
Fortnite: Save the World
July 25, 2017 (early access)
Latest release
Fortnite Creative
December 6, 2018