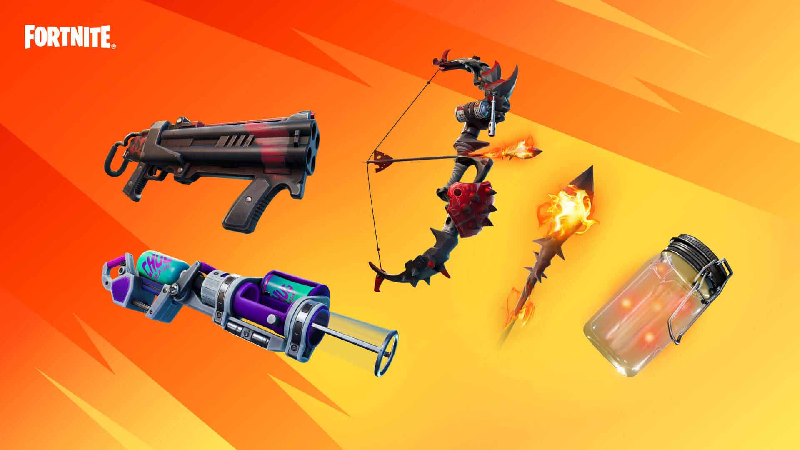 Epic Games have rolled out the new v21.51 update in Fortnite .
Fortnite v21.51 Update patch notes – Fire with Fire Week
Fire with Fire Week  runs from today, September 7 at 9am ET ( 2pm UK time) until September 13 at 9am ET (2pm UK time).
During this time, the Primal Flame Bow and Dragon's Breath Shotgun will decommission and start spawning on the island on the ground and in chests. Firefly Jars with similar fire themes will also spawn at a much higher rate than usual.
Firefly Jars will be available at a higher price, along with Chug Cannons. Special missions for extra XP can be found in the Fire Week with Fire category on the missions page.
The above changes will not be included in the Competitive Playlists.
Alongside the Fire with Fire week, update 21.51 also makes some smaller changes to the purchase, cancellation and social settings in-game, too. For example, players will now have to hold a button to confirm any in-game purchases.
The purchase cancellation window is also being extended. Players will now be able to cancel in-game cosmetic purchases made with V-Bucks until the cosmetic is equipped, or until 24 hours have passed, whichever comes first.
Payment information now has the option to be saved, and a chargeback policy has been updated.
Fornite Wiki
Fortnite

Genre(s)

Survival, battle royale, sandbox

Developer(s)

Epic Games

Publisher(s)

Platform(s)

Windows, macOS, Nintendo Switch, PlayStation 4, PlayStation 5, Xbox One, Xbox Series X/S, iOS, Android

First release

Fortnite: Save the World July 25, 2017 (early access)