As Season 3 comes to a close, Fortnite Chapter 3 Season 4 leaks are circulating the internet.  The unnamed Fortnite Chapter 3 Season 4 is set to release later this year, and thanks to data miners, we know what to expect. Let's go over everything we know so far about the upcoming season.
Fortnite Chapter 3 Season 4 Release Date
Fortnite Chapter 3, Season 4 will be released on September 18, 2022
At least if everything goes as planned. Despite the fact that Fortnite Season 3 has no official end date, the message "Chapter 3 – Season 3 through September 17" can be found in the bottom-left corner of the current Battle Pass. Because you still have time to complete your Battle Pass today, the season will most likely end today and Season 4 will begin the following day.
Fortnite Chapter 3 Season 4 Story Leaks – Is the Paradigm on its way?
The Fortnite Chapter 3 Season 4 teaser image was discovered by popular dataminer and leaker iFireMonkey, who tweeted about it.
As spotted by you guys, the hand in the image Nintendo posted is the same hand design as the remixed Paradigm. pic.twitter.com/yzBnKthIxs

— iFireMonkey (@iFireMonkey) September 1, 2022
The image, which shows a hand sticking out of some sort of liquid, doesn't reveal much yet. While there's not a lot to go on, fans believe the hand belongs to Paradigm, a member of The Seven who first appeared in Season X in Chapter 1.
Brie Larson has long been rumored to play The Paradigm, and it appears that she will now that Fortnite's CCO Donald Mustard has begun following her on Twitter.
After the chaotic and dramatic conclusion of Chapter 3 Season 2, Fortnite Chapter 3 Season 3 was a much-needed relaxed summer season. In Chapter 3 Season 4, things should return to normal with The Seven's appearance as they continue to battle the IO, whose leader Geno mysteriously appeared at the end of Chapter 3 Season 2.
Fortnite Chapter 3 Season 4 Story Leaks – Will it be Marvel-themed?
For a long time, it has been assumed that Fortnite Chapter 3 Season 4 will be another Marvel-themed one. However, a new leak suggests that this will not be the case. The leak comes from HYPEX, a well-known Fortnite data miner who stated on Twitter, "Fortnite's Season 4 is NOT Marvel themed!"
Fortnite's Season 4 is NOT Marvel themed!

— HYPEX (@HYPEX) September 1, 2022
It's unclear whether this is true or not, but based on Twitter comments, we can all agree that players do not want another Marvel-themed Fortnite season.
Even though the following season won't have a Marvel theme, it seems that Marvel characters will make an appearance. According to reports, the Chapter 3 Season 4 battle pass will feature Miles Morales and Gwen Stacy from Spider-Man. HYPEX, FNBRintel, MidaRado, and ShiinaBR were among the Fortnite data miners who shared this information.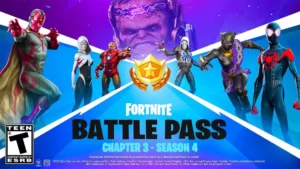 In terms of Miles Morales, the superhero is rumored to appear in the item store at some point this season. Unfortunately, there haven't been any visual leaks to go along with the aforementioned statements as of this writing.
Fortnite Chapter 3 Season 4 Leaks : Spawn Island
The theory was first shared by FNBRWatch on Twitter, sharing a few different images with the goo appearing around the lobby island.
THE LIQUID FROM THE TEASER HAS STARTED APPEARING ON THE MAP!

Spotted by @Wensoing & @SpushFNBR #Fortnite #FortniteLeaks pic.twitter.com/H6xqhJ0D7d

— FNBRWatch – Fortnite Leaks (@FNBRWatch) September 3, 2022
And that concludes the Fortnite Chapter 3 Season 4 leaks!