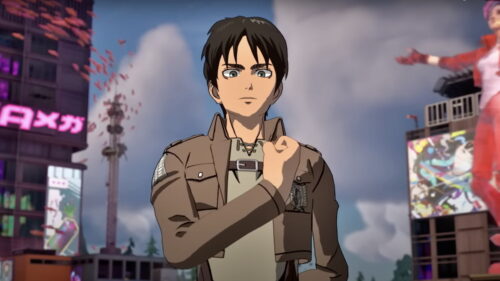 The Fortnite Eren Jaeger skin is available with Chapter 4, Season 2, but you must complete quests to obtain the Attack on Titan outfit.
How to get the Eren Jaeger skin in Fortnite
Eren Jaeger skins will be available on April 15, 2023. Along with the skin, there may be a new Attack on Titan creative map to explore, as with previous Dragon Ball Z crossovers.
Like other major crossover skins, getting the Eren Yeager skin in Fortnite won't be too hard. Once the required number of challenges are done, battle pass owners will be able to obtain the skin. These challenges are never too hard, and if you play every once in a while, you'll be able to breeze through them. Leaks suggest that it will be the last reward for page two of the most recent battle pass.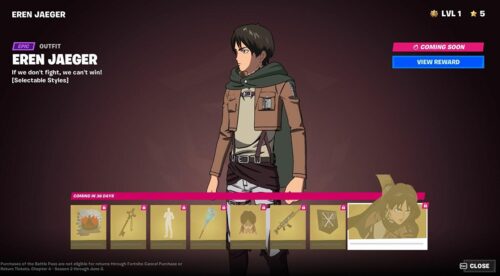 Will the Eren Yeager skin have a variant?
The Eren Yeager skin will also have a mid-season variant, according to prominent leaker Hypex on Twitter. This will most likely be accomplished through the newly introduced mid-season drop feature, which allows you to claim alternate skins for previously earned rewards.
Whatever Epic Games decides, both of those skins will undoubtedly be sought after by die-hard Attack on Titan fans.
There is also the possibility that the leaks are incorrect and the alternate skins are other members of the Attack on Titan cast.
EREN YEAGER FORTNITE SKIN INFO 🔥

– Looks EXACTLY like this image, with a mid-season variant (Titan most likely)
– Emote is "Scout Regime Salute" (Like this image)
– Pickaxe is a hardened titan first (on a stick)
– Animated Emoji, Wrap & Banner
– Page 2 with more cosmetis pic.twitter.com/mkuacjZNtL

— HYPEX (@HYPEX) March 4, 2023
Will there be a new mythic utility item?
Leaks have also strongly suggested that a brand new mythic utility item will be added to Fortnite. It appears that the Scouts' iconic Omni Directional Mobility (ODM) Gear from Attack on Titan will be included in the game.
In the anime, the ODM gear was used to fight Titans and zip through forests and cities alike. It's quick and versatile, and we're interested to see how Epic Games plans to use it as a utility mechanic. The Web Gliders from the Spider-Man crossover are likely to function similarly.
What other cosmetics come with Eren Yeager?
That's not all. The battle pass will also include a slew of other Attack on Titan-themed items, which are as follows:
Eren's Faceoff Spray
Basem*nt Key Back Bling
Scout Regiment Salute Emote
Titan Strike Harvesting Tool
Determined Eren Emoticon
Regiment Gear Wrap
Training Corps Banner Icon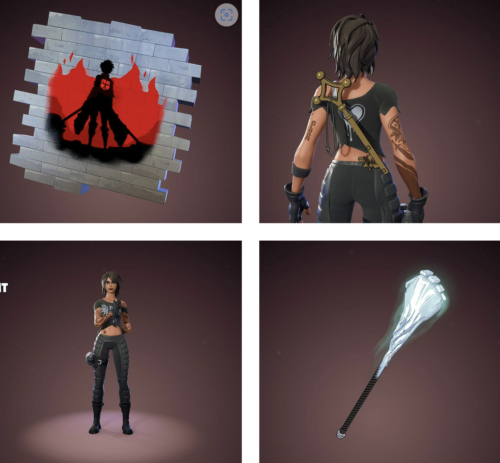 That's all we know about the upcoming Eren Yeager skins and cosmetics items in Fortnite Chapter 4 Season 2.
Related: