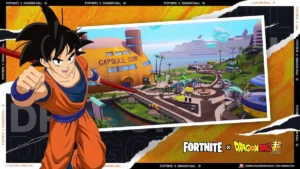 Find out where to look for the four Dragon Balls Fortnite players need to collect to unlock the Orange Piccolo Spray below.
Dragon Ball Adventure Island location in Fortnite
Enter the code 5642-8525-5429 on the Island Code tab to locate Dragon Ball Adventure Island. You can also find this map in the Creative modes under the 'Discover' tab. Once you've done that, you can start up Fortnite as usual, and you'll be transported to a special map that includes several well-known locations from the Dragon Ball universe.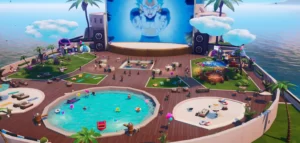 How to collect Dragon Balls in Fortnite
There are seven unique Dragon Balls on the map of Adventure Island. Once you've loaded the map, you'll receive a message instructing you to visit the Quest Board to begin searching for each Dragon Ball. Upon completing each objective, you will receive an additional Dragon Ball to add to your collection. 
These mini-missions will take you all over the map, but you can quickly navigate by using the Spaceship and inputting the correct destination.
Locations and methods for acquiring each Dragon Ball on Adventure Island are detailed below.
| Dragon Ball Number | Location | How to Unlock |
| --- | --- | --- |
| 1 | Resort Area | Pick it up next to the Quest Board. |
| 2 | Resort Area | Use the Radar on the bench to ping the location. |
| 3 | Goku's House | Collect ingredients to craft three different fish for Goku. |
| 4 | Room of Spirit and Time | Reach the end of the time trial. |
| 5 | Kami's Palace | Complete the Nimbus Cloud time trial. |
| 6 | Beerus Planet | Use the Kamehameha to destroy five rocks. |
| 7 | Resort Area | Find the other six Dragon Balls |
That brings us to the end of our guide on how to get the Orange Piccolo Spray in Fortnite and claim each Dragon Ball on Adventure Island.
About Fortnite
Fortnite
Genre(s)
Survival, battle royale, sandbox
Developer(s)
Epic Games
Publisher(s)
Platform(s)
Windows
macOS
Nintendo Switch
PlayStation 4
PlayStation 5
Xbox One
Xbox Series X/S
iOS
Android
First release
Fortnite: Save the World
July 25, 2017 (early access)
Latest release
Fortnite Creative
December 6, 2018