While the Season 2 release date for Fortnite Chapter 4 is known, new features and collaborationsare shrouded in mystery.
Fortnite Chapter 4 Season 2 release date speculation
There is an estimated March 10th, 2023 release date for Fortnite Season 2 Chapter 4. New seasons typically start on a Monday, and this one is no exception; the release date is determined by the fact that the Fortnite Chapter 4 Season 1 battle pass is only available until March 10.
Fortnite Chapter 4 Season 2 leaks and changes
So far, there haven't been many leaks for Season 2 of Chapter 4. This is because, in most cases, leaks are for a new feature coming to the current season, and you'll rarely see anything appear this far in advance.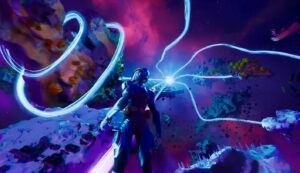 Epic Games' founder and CEO, Tim Sweeney, has been dropping hints about upcoming seasons in recent patches through his tweets. Only a tweet promising "Next year on iOS!" has surfaced so far. Since the battle royale game was taken down from Apple's app store and a lawsuit was filed against the multibillion dollar company, this makes sense. The lawsuit has been resolved, but in response, Sweeney tweeted, "Fortnite will return to the iOS App Store when and where Epic can offer in-app payment in fair competition with Apple in-app payment, passing the savings along to consumers." Since the ruling in September of 2021, it is unclear if a compromise has been reached.
However, at this time there simply aren't any details available about Fortnite Season 2 Chapter 4.
About Fortnite
Fortnite is a 2017 online video game developed by Epic Games. It has three game modes with the same gameplay and engine: Fortnite Battle Royale, a free-to-play battle royale game with up to 100 players; Fortnite: Save the World, a cooperative hybrid tower defense-shooter and survival game where up to four players fight zombie-like creatures and defend objects with traps and fortifications they build; and Fortnite Creative, where players can freely create worlds and battle arenas.
Fortnite
Genre(s)
Survival, battle royale, sandbox
Developer(s)
Epic Games
Publisher(s)
Platform(s)
Windows
macOS
Nintendo Switch
PlayStation 4
PlayStation 5
Xbox One
Xbox Series X/S
iOS
Android
First release
Fortnite: Save the World
July 25, 2017 (early access)
Latest release
Fortnite Creative
December 6, 2018