Maya Jama, the Love Island host, shared a sneak peek from Monday night's episode, in which Lana Jenkins is snapped at by Ron Hall following her relationship with Casey O'Gorman.
The first glimpse of Ron's curt reaction to Lana's defense of their decision to reunite as a couple on Love Island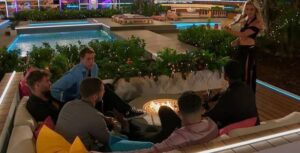 After Sunday night's shocking recoupling, in which Lana Jenkins chose bombshell Casey O'Gorman, Ron Hall was not a "happy bunny."
Fans and Shaq Muhammad have taken issue with Ron's treatment of Lana, a makeup artist who dated Hollyoaks actor Owen Warner, leading to a love triangle in recent episodes.
When Casey and Jordan Odofin arrived in the villa together last week, Lana got a second chance at starting over when recruitment consultant Casey chose her as one of his dates in addition to Olivia Hawkins.
Recoupling on Sunday night saw Lana go with Casey after "exposed" footballer Tom Clare tried to win back fans by supporting her and encouraging her to go for Casey.
During the reconciliation, she said, "I've decided to couple up with this boy because he's kind, funny, and makes me smile.
"'Over the last two three days I've been trying to make a decision and decide what I need and want."
"I've been fighting between my head and my heart but tonight I'm going with my gut. The boy I've decided to couple up with is Casey."
Maya Jama, who replaced Laura Whitmore as the host of Love Island, teased the upcoming episode by saying, "Spoiler alert – Ron is not a happy bunny."
"'I'll deal with it my own way, you know. But nah, it's sweet," Ron says before telling fellow bombshell Jordan, "Just tell Casey not to f*** up. He's got a good one."
Lana says, "I think I should talk to him," before approaching Ron and asking if she could speak with him.
 To which Ron responds, "Not yet. If that's alright… sorry."
The internet has been full of fans praising Lana and her decision: "WELL WELL WELL!! Ms Lana has finally had enough of the humiliation from Ron and told him to do one!! BRAVO."
That humiliation was exactly what RON needed, and LANA gave it to him. One commenter summed it all up, while a third commented, "Notice how Ron says"I hope I win" and Casey says "I hope Lana picks me" says it all really."
"Ron doesn't give 2 sh**s about humiliating Lana infront of the boys, the fact that he's treated her like trash for the past 2 weeks & still expected to be picked speaks volumes! let's see how long Lana holds out for cause we all know she will be begging Ron soon."
Fans have labeled him the "biggest villain" since Samie Elishi entered the villa and he clashed with Shaq over Lana and Ron's budding romance in the very first episode.