The construction of Kylie Jenner's new $15 million mega mansion has been the subject of criticism after aerial footage revealed the home's interior and exterior.
Kylie Jenner has been accused of being "greedy" after photos of her newest mansion's construction surfaced online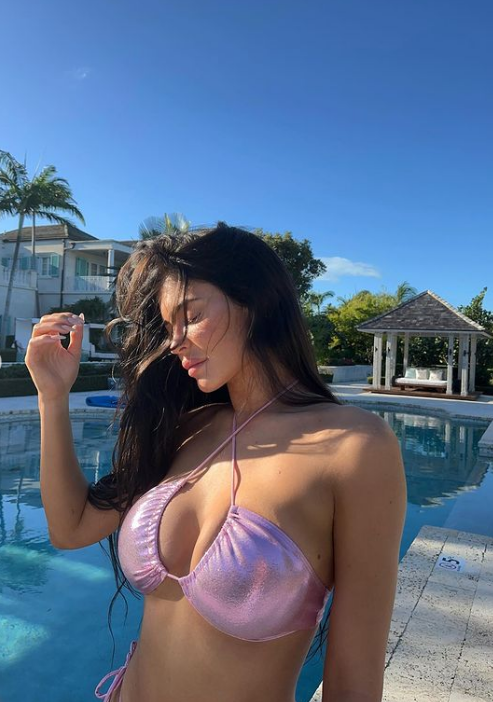 Her new home is being built in Calabasas, California, not far from those of both her mother Kris Jenner (age 67) and her sister Khloe (age 38).
Since Kylie already owns a $36.5 million compound in Holmby Hills and a $12 million Hidden Hills home, some have argued that the construction project is unnecessary.
A number of pictures from the construction site were posted to the SubReddit r/KUWTKsnark, which is defined as: "A place for Kardashian Jenner Cynics, Kritics, Skeptics, Doubters, Lurkers, and Hippo-Krisy's."
Screenshots of news articles highlighted controversial moments in the family's history, such as Kris's alleged sexual harassment at the hands of her former security guard, alongside photographs of the lavish home under construction.
An extremely critical article titled: "Greedy. The question "When will it all fall down?!?" sparked an extended discussion during which the family was criticized for being "greedy and wasteful." "behaviour.
Something else was said: "Truly, I have no clue as to why the ultra-rich require a whopping 1436 bedrooms and 478 bathrooms. We will never put them to use. Ever. There's no way they'll bother to enter those chambers."
The criticism comes after Kylie was accused of "mocking" Selena Gomez during their "eyebrows feud" and lost almost a million followers on Instagram.
In a TikTok video, the star of "Only Murders in the Building" joked that she had "accidentally laminated [her] brows too much."
Selena captioned a video of herself showing off her new look using a social media filter and makeup that was clearly inspired by Bella Hadid by saying that she wished she looked "as pretty" as the supermodel.
She said: "My name… my name is Bella Hadid" then in a follow-up video added: "Instead, this is me. I laminated my brows too much."
Kylie also posted a selfie of herself with the words "this was an accident?"
Fans now think that the two were "mocking" Selena, and despite her denials, the make-up mogul is losing a lot of fans online because of it.
READ MORE: