The Legend version of Heist Battlegrounds has arrived in Destiny 2, but does it support matchmaking? Check out this article for more information.
Does Destiny 2 Legend Heist Battlegrounds Have Matchmaking?
As Season of the Seraph progresses in Destiny 2, there is now a Legend version of Heist Battlegrounds, a set of missions in which Guardians infiltrate Warmind bunkers and reclaim pieces of Rasputin's code. Unlike the base versions, these higher-difficulty versions are not usually matchmade. Heist Battlegrounds appeared to mark a change, with the activity mentioning matchmaking when selected in the H.E.L.M.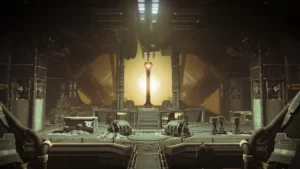 However, this appears to be a mistake — matchmaking is not enabled in Legend Heist Battlegrounds. As in previous seasons, you will have to find your own team. We're all aware of how disappointing it is. It also begs the question of why the developer refuses to implement matchmaking for the game's harder missions.
You could argue that matchmaking for Raids and even Dungeons would be challenging given that these activities demand teamwork from players in order to advance through time-sensitive puzzles. But the main source of difficulty in seasonal activities is simply the presence of powerful and numerous adversaries. If locked loadouts are the problem, making it challenging to defeat Champions, Bungie could simply mandate that every player have the necessary mods equipped in order to matchmake into the activity.
Yes, you can find a fireteam using the official Destiny 2 app, but if you can do that, why not just make these activities matchmade in the game itself? Legend Heist Battlegrounds' lack of matchmaking is unfortunate, and hopefully this is something Bungie will address in the future.
About Destiny 2
Destiny 2
Developer(s)
Bungie
Publisher(s)

Activision (2017–2018)
Bungie (2019–present)

Director(s)

Christopher Barrett
Ryan Ellis

Producer(s)
Patrick O'Kelly
Designer(s)

Del Chafe III
M.E. Chung
Tyson Green
Sage Merrill
Christopher Opdahl
James Tsai

Artist(s)
Writer(s)

Jason Harris
Christine Thompson

Composer(s)

Michael Salvatori
Skye Lewin
C Paul Johnson

Platform(s)

PlayStation 4
Xbox One
Windows
Stadia
PlayStation 5
Xbox Series X/S

Release

PlayStation 4, Xbox One
September 6, 2017
Windows
October 24, 2017
Stadia
November 19, 2019
PS5, Xbox Series X/S
December 8, 2020

Genre(s)
First-person shooter, MMOG
Mode(s)
Multiplayer