Hilts are a type of currency in Diablo Immortal that can be earned through a variety of activities, but they can only be used to purchase specific items and resources. Because there are no microtransactions for purchasing Hilts, it is one of the game's rarest forms of currency. This guide will show you how to farm Diablo Immortal Hilts, where to find the Hilts Trader, and what items you can buy with this currency.
How To Farm Diablo Immortal Hilts
In Diablo Immortal, there are numerous ways to obtain Hilts. You can earn Hilts just by playing the game and doing whatever you like, from exploring new areas to daily monster killings.
Complete Codex achievements and activities
Compete in PvP Battlegrounds.
Complete Challenge Rifts to climb the Group and Solo Leaderboards, and get Diablo Immortal Hilts when you first complete each level.
Explore each zone's map and complete a variety of objectives within.
Immortals Clan/Shadows Clan quests/tasks.
Level up your Diablo Immortal battle pass.
Log in daily and get the "First kill of the day".
Diablo Immortal Hilts Trader Location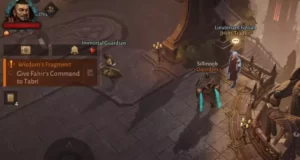 The map below shows the exact location of the Hilts Trader NPC Lieutenant Fizriah in Westmarch, Diablo Immortal's main hub. Once unlocked for the first time, use the Immortal Overlook Waypoint to get there quickly. The main quets line usually leads to him around level 28. You can also go early and start spending your Hilts right away.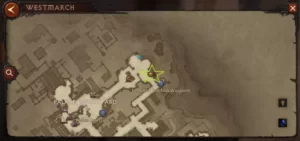 What To Buy With Hilts In Diablo Immortal
The majority of items you can buy with Hilts from the trader have a monthly, weekly, or daily limit.
The only items you should purchase from Hilts Trader are the Crests. You can only purchase one legendary crest from the Hilts vendor per month, so you should buy it with 1600 hilts. Aside from that, you should only spend your hilts on rare crests every day.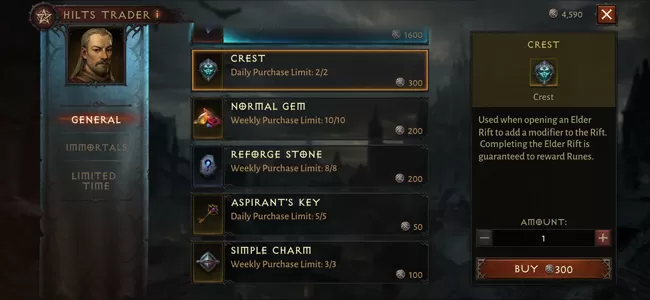 Hilt Merchant sells up to four rare crests every day. There are two crests available from the "General" tab and two from the "Limited Time" tab (1 crest at each refresh per day). Make sure to check the "Notify Me" option to get notified when the items refresh.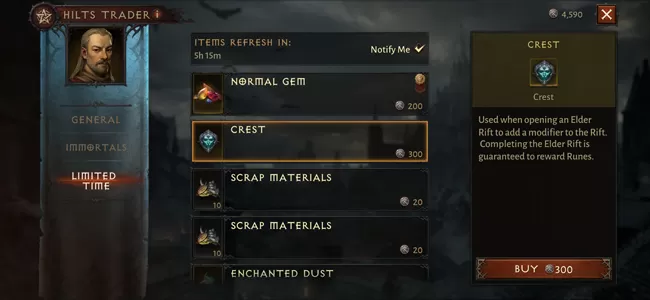 Each rare crest costs 300 hilts, so purchasing all four possible crests per day will cost 1200 hilts. If you're a free-to-play player, you won't have many hilts left after purchasing four crests, so this is the ideal option for you.
Additionally, there are daily-changing Limited Time items. We suggest going back to the Hilts Trader in Diablo Immortal's Westmarch daily to look for bargains.
Finally, those who are able to join an Immortals clan receive their own tab at the Hilts Trader, which contains several goodies such as an extra Legendary Crest to purchase each month, Raw Essentia, and more.
Diablo Immortal Wiki
Diablo Immortal
Developer(s)

Blizzard Entertainment
NetEase

Publisher(s)
Blizzard Entertainment
Director(s)
Wyatt Cheng
Series
Diablo
Platform(s)
Release

NA/EU/SA/OC/JP/KR: June 2, 2022
SEA/HK/MAC/TW: July 8, 2022
CHN: July 25, 2022

Genre(s)

Action role-playing
Massively multiplayer online

Mode(s)
Multiplayer