Bungie continues to drop hints about the Veil in Destiny 2 and its connection to the Traveler in the Avalon Exotic mission.
Destiny 2 – New detail about the Veil has been revealed in the Avalon Exotic Mission
Destiny 2: Lightfall's main campaign seems to have been just the beginning of this year's big narrative reveals, as the Season of Defiance's Avalon Exotic mission may have given important clues about the Veil. The inexplicable artifact was a key part of the story in the Lightfall DLC, but Bungie never really said what it was. This may change in the coming weeks and months, though.
Of course, Destiny 2 has frequently struggled to communicate its grandest ideas, and it appears that the Veil is extremely important in the grand scheme of things. Notably, after the Lightfall campaign barely touched on the Veil's place in Destiny's metaphysics, the community was outraged at Bungie's treatment of such an important element of the story, but hints are coming in at a rapid pace.
Destiny 2's concept art of the Veil has given fans a better idea of what the artifact might be, and the ongoing in-game events shown as part of the seasonal Exotic mission, Avalon, may have given a hint as to what it really is. Even though Dima Goryanov's excellent concept art didn't fully show this, it seems that the in-game model of the Veil is a lot like the Season of Arrivals' Tree of Silver Wings. The enigmatic Tree was first mentioned in the lead-up to the Second Collapse in 2020, but it was never properly explained.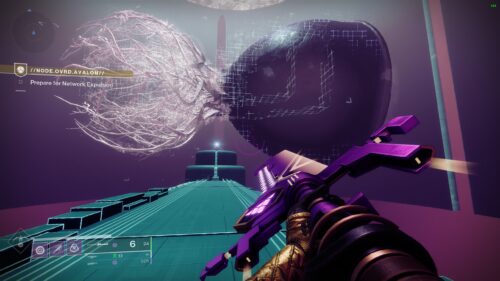 There were a few things that players were aware of regarding Destiny 2's Tree of Silver Wings. It appeared to be highly reactive to both Light and Dark and capable of mutating accordingly, and its branches resembled the strange roots growing from the bottom of the Veil. There are also implied links with the primordial pre-universal Garden, which is frequently mentioned in the lore, and it has been proposed that the final arena of the Garden of Salvation is, in fact, in the middle of a fallen trunk of one such Tree.
Despite the fact that Destiny 2: Lightfall's lore was poorly conveyed in many ways, the similarities between the Veil as seen in the Avalon Exotic mission and the Tree of Silver Wings are highly unlikely to be coincidental. Instead, Bungie may be considering how to elegantly tie together many of the story's mysterious Light and Dark artifacts in one fell swoop.
While some believe Lightfall was simply filler for Destiny 2 before the release of The Final Shape next year, the expansion may end up having significant merit for lore-minded players in particular. The Avalon mission is still in the works, and it's entirely possible that more information about the Veil, even if only implied, will end up being included in it.
Related: