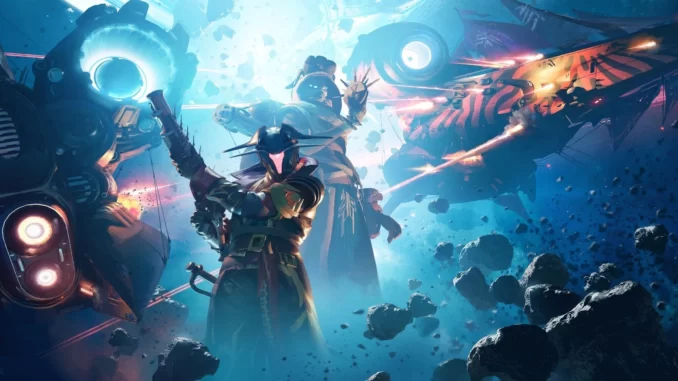 What is the Scallywag Title Triumphs ?
There are only 10 Triumphs to unlock for the Scallywag Title and Sigil during the Plunder Season. However, some of these triumphs are locked behind weekly activities, upgrades, and seasonal weapon crafting.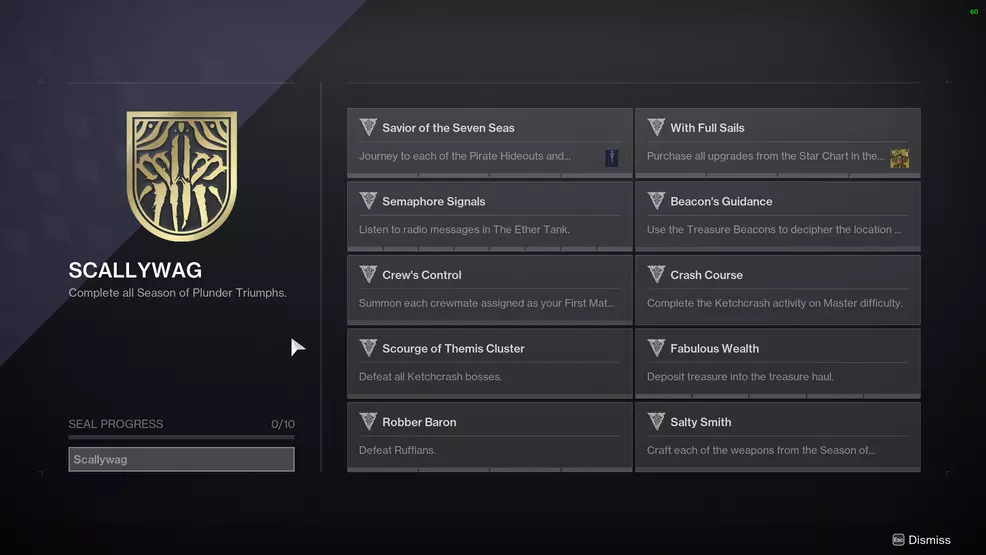 Savior of the Seven Seas – Journey to each of the Pirate Hideouts and defeat the Pirate Lords within
With Full Sails – Purchase all upgrades from the Star Chart in the H.E.L.M.
Semaphore Signals – Listen to radio messages in The Ether Tank
Beacon's Guidance – Use the Treasure Beacons to decipher the location of the hidden treasure.

Small Treasure Beacon
Medium Treasure Beacon
Large Treasure Beacon

Crew's Control – Summon each crewmate assigned as your First Mate during Expedition and Ketchcrash activities.

First Mate Halsisks
First Mate SCUR-V
First Mate Skiffblades

Crash Course – Complete the Ketchcrash activity on Master difficulty
Scourge of Themis Cluster – Defeat all Ketchcrash bosses

Aye-I defeated
Ransaaks defeated
Skiffiks defeated

Fabulous Wealth – Deposit treasure into the treasure haul
Robber Baron – Defeat Ruffians
Salty Smith – Craft each of the weapons from the Season of Plunder

Tarnished Mettle
Blood Feud
Brigand's Law
No Reprieve
Sailspy Pitchglass
Planck's Stride
If you're looking to win the seasonal Scallywag title in Destiny 2 Season of Plunder, then one of the requirements you'll have to fulfill is the Salty Smith Triumph.  Since many players don't even have all of the Season of the Haunted's weapons built yet, this may seem a bit daunting. But for now, at least, there's a way to get this Triumph that doesn't require crafting any seasonal weapons.
How to easy Complete the Salty Smith Triumph in Destiny 2 ?
To complete this trick, you'll need a seasonal weapon – not red-bordered variants, just any regular drop will do. Bring your gear and start crafting weapons on Savathun's Throne World. You want to equip as many seasonal weapons as possible, then craft whatever unlockable pattern you have. Once done, check your Salty Smith Triumph progress. Any seasonal weapons you have equipped while crafting should be checked. You can repeat this process as many times as needed, swapping out the weapons you've equipped to complete Victory.
Destiny 2 wiki :
Developer(s)
Bungie
Publisher(s)
Director(s)

Christopher Barrett
Luke Smith
Ryan Ellis

Producer(s)
Patrick O'Kelly
Designer(s)

Del Chafe III
M.E. Chung
Tyson Green
Sage Merrill
Christopher Opdahl
James Tsai

Artist(s)
Writer(s)

Jason Harris
Christine Thompson

Composer(s)

Michael Salvatori
Skye Lewin
C Paul Johnson

Platform(s)

Microsoft Windows
PlayStation 4
Xbox One
Stadia
PlayStation 5
Xbox Series X/S

Release

PS4, Xbox One
September 6, 2017
Microsoft Windows
October 24, 2017
Stadia
November 19, 2019
PS5, Xbox Series X/S
December 8, 2020

Genre(s)
First-person shooter, MMOG
Mode(s)
Multiplayer