Demi Rose is famous for exposing her curves in skimpy outfits. On Tuesday, she posed for some stunning photos while wearing only a bikini, and she looked incredible.
Demi Rose poses for a series of steamy photographs, baring her breasts in a skimpy bikini
The 27-year-old model, who has 19 million followers, flaunted her incredible physique in a two-piece swimsuit with a crocodile skin print.
She sat at the pool's edge and turned to the side, baring her ample bottom and sideboob.
She wore a full face of glamorous makeup, and her long brown hair fell in soft waves down her back.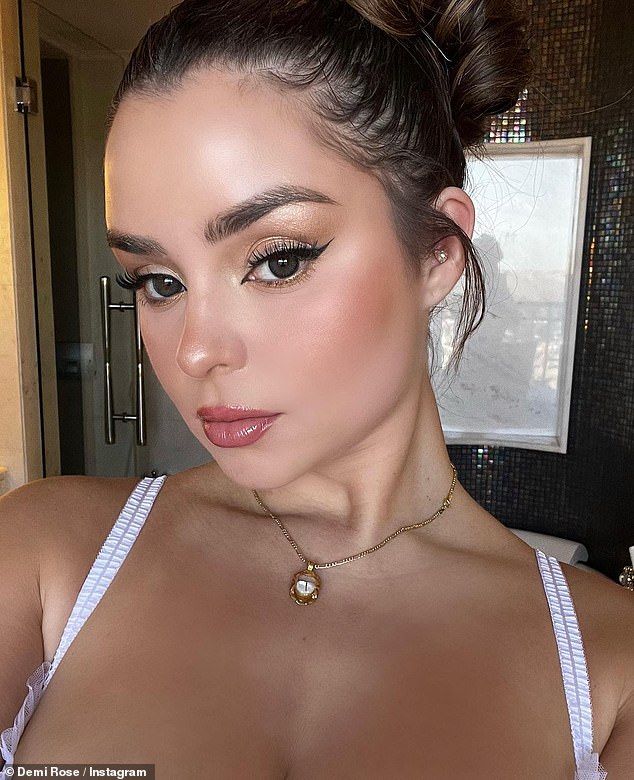 Demi also posted a selfie in which her flawless makeup and white lace bra were on full display.
In a third image, she sits cross-legged on the floor, revealing her long legs while draped in a beautiful beaded robe.
In the photo captions, she penned: 'More love, more life'.
Demi was relieved to return to Ibiza earlier this month after a lengthy trip to Egypt, but she has only just begun sharing photos from that time.
Model posted several photos from her final shoot in the Middle East before flying back to Ibiza via London.
During her time at the Red Sea, she posed on a balcony wearing nothing but a scrap of fabric and a pair of heels.
Demi captioned the photo with the word "Bliss" as she struck a sexually suggestive pose and pouted flawlessly.
After that, Demi boarded a plane bound for London, where she would receive plastic surgery.
Then the star finally boarded a plane for Ibiza, where she resides at the present time.
A social media model couldn't resist a welcome home shoot in her black lace lingerie after she landed.
Demi took mirror selfies with her friends, showing off her curves in a strapless bra while making playful pouty faces.
Demi gushed, "There's no place like home," as she also provided a glimpse of the breathtaking scenery surrounding her Ibiza residence.
Demi, formerly romantically linked to rapper Tyga, recently did an open and honest Instagram Q&A in which she discussed her sexuality and difficult upbringing.
Although she has never publicly discussed her sexuality, the model recently revealed to her fans that she is interested in dating women.
Asked 'Boys, girls or both?' by a follower, she responded: 'I went through a phase of liking girls more than guys. Now I'm more into guys. It just depends.'
She continued by saying that she is searching for a partner who is "inspiring, honest, well put together, a deep soul that is open minded, kind, ambitious, and thoughtful."