On Sunday afternoon, Demi Rose continued to display her toned body by donning a little orange bikini that showed off her figure.
Demi Rose shows off her curves in a tight orange bikini and admits that she works out five times a week (and sometimes TWICE a day!)
The 27-year-old model found a full-length mirror conveniently situated on the balcony beside the pool of her mansion and promptly took advantage of the opportunity to flaunt her curves.
To her 20 million Instagram followers, her unbelievably curvy body is glaringly obvious in every photo she posts.
The translucent material of her bikini top barely contained her substantial assets, and the applique floral detail that was stitched on the front was the only thing that kept her modesty in check.
The high rise of the bottoms highlighted her trim waist and hourglass form.
She didn't seem to bother with any cosmetics, opting instead to soak up some rays and add to her already impressive tan.
Her dark hair was styled in an updo that highlighted her beautiful face.
"Been in hermit mode working out 5 times a week" the Instagram sensation Demi captioned the Sunday video. Oftentimes twice a day with my two trainers.
She also posted a photo of her dog Ted staring up affectionately at her on her Instagram stories, captioning it, 'Girls if he doesn't look at you the way Ted looks at me he isn't the one.'
The azure sky and palm palms in the background evoke the tranquility of her recent vacation.
Demi uploaded a series of revealing photos from her time in Ibiza to Instagram on Wednesday, and she looked amazing in every one of them.
The model wore an extremely see-through purple maxi dress that exposed her entire body, including her bare back.
She paired the revealing halter-style drape with thigh-high splits and high purple heels to show off her big assets and pert posterior.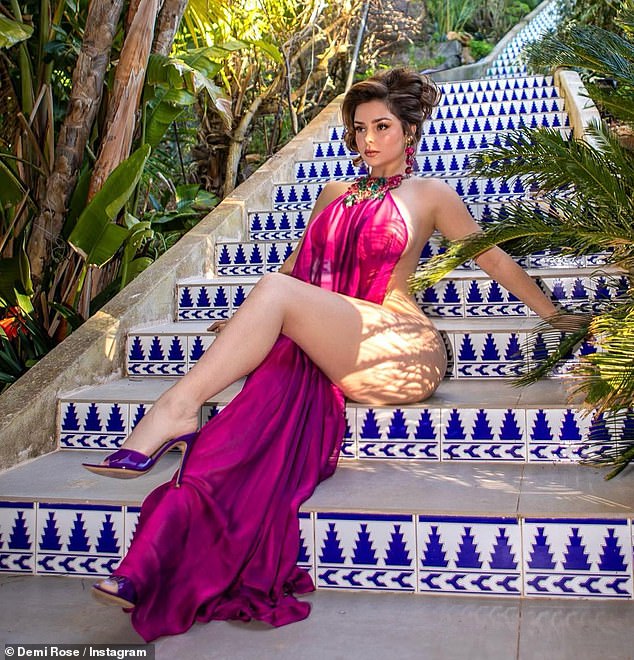 She swept up her brunette hair and accessorized with a bold green necklace and dangling earrings for a glamorous effect.
On International Women's Day, she posted the photo with the words 'I love being a woman' and was flooded with adoring comments.'
After a long vacation to Egypt, Demi was relieved to return to her home in Ibiza earlier this month.
The social media star couldn't help but pose in her black lace lingerie for a welcome home photo session after she landed.
Demi took mirror photos with her friends, showing off her curves in a strapless bra while making fun pouty faces.
Demi gushed, 'There's no place like home' Demi gushed as she also shared a look at the incredible landscape near her Ibiza home."
Demi, formerly romantically linked to rapper Tyga, recently had a candid Instagram Q&A in which she discussed her sexuality and her difficult upbringing.
Asked  "Boys, girls or both?" by a follower, she responded: "I went through a phase of liking girls more than guys."
The model has never spoken publicly about her sexuality before, but she just revealed to her fans that she is interested in dating women.