Dead Silence will be included in Modern Warfare 2 at launch, but will be available as a Field Upgrade rather than a Perk.
Dead Silence Will Be A Field Upgrade In Call Of Duty: Modern Warfare 2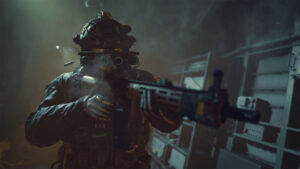 The highly anticipated Modern Warfare 2, Warzone 2, and Warzone Mobile have been revealed in Call of Duty Next. With the game's multiplayer beta beginning on September 16 and a slew of announcements from this big event, CoD fans will have plenty to sink their teeth into.
The freedom to play Call of Duty however you want is one of its best features. You can choose your playstyle, whether you want to rush at enemies with reckless abandon or pick them off from a safe distance with a Sniper Rifle. For those who like to sneak around and catch enemies off guard, Dead Silence has been a crutch tool in your arsenal, allowing you to move like a breeze and take out enemies before they know it.
Dead Silence is Field Upgrade and unlocks at Level 30.

Here's the #ModernWarfareII Field Upgrades in the beta. pic.twitter.com/EZZEwcBwsM

— CharlieIntel (@charlieINTEL) September 15, 2022
Dead Silence is back in Modern Warfare 2, but this time as a Field Upgrade rather than a Perk. This means that players will not be able to use Dead Silence for the duration of a match, but will only be able to use it for a limited time.
Dead Silence in Modern Warfare 2019 totally silenced all footsteps for 15 seconds, with the timer restarting if you found a kill during that period. Additionally, it gave you an 8% movement speed boost, allowing you to move quickly around the map. It sounds almost identical in Modern Warfare 2, with the beta's description reading: "Temporarily makes your footsteps silent. Gun, melee, and throwing knife kills refresh duration."
The debate over whether Dead Silence belongs as a Perk or a Field Upgrade has long raged in Call of Duty. Some people like the fact that players can't always move stealthily, while others believe that Modern Warfare's footsteps are so loud that they need to be muffled.
Regardless, Infinity Ward stuck to their guns and reintroduced it as a Field Upgrade, and it's likely to be the same in Warzone 2.
About Call of Duty: Modern Warfare 2
Call of Duty: Modern Warfare 2
Developer(s)
Infinity Ward
Beenox (Remastered)
Publisher(s)
Activision
Director(s)
Jason West
Producer(s)
Mark Rubin
Designer(s)

Todd Alderman
Steve Fukuda
Mackey McCandlish
Zied Rieke

Artist(s)
Richard Kriegler
Writer(s)
Jesse Stern
Composer(s)
Hans Zimmer
Lorne Balfe
Series
Call of Duty
Engine
IW 4.0
Platform(s)

Microsoft Windows
PlayStation 3
Xbox 360
macOS
PlayStation 4
Xbox One

Genre(s)
First-person shooter
Mode(s)
Single-player, multiplayer