Learn all about Cyberpunk 2077: Phantom Liberty, from its release date, story to its gameplay details, right here.
Phantom Liberty release date and platforms
Phantom Liberty is set to arrive in 2023, according to the Cyberpunk 2077 DLC announcement post from September 2022. Phantom Liberty is available only to PC, PS5, and Xbox Series X/S players. Unlike Cyberpunk 2077, this expansion will not be available on PS4 or Xbox One. Furthermore, Phantom Liberty is sold as DLC rather than as a free update, so you'll have to purchase it if you want to play it.
Story
Phantom Liberty's first trailer shows a massive stadium, suggesting that the DLC takes place in Cyberpunk 2077's Pacifica District in the southwest. It also appears to show the Biotechnica Flats greenhouse. However, don't expect to see many familiar locations, as CD Projekt Red has stated that the majority of the Phantom Liberty DLC will take place in a brand-new area of Night City. As shown in the second teaser, Dogtown will undoubtedly become an important location.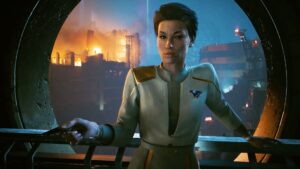 Militech appears to play a significant role in the plot. Both trailers hint that a plane crash could be the catalyst for a Pacifica purge. Here's a wild guess: V is semi-forcefully recruited as an undercover agent by a rogue NUSA politician, then sent to find out who crashed that plane, but ends up trying to save Dogtown from a massacre.
Gameplay
There isn't much information about new Phantom Liberty gameplay elements, but we can probably expect to see a new arsenal of weapons and cyberware. Based on three short combat clips from the first teaser, including a new whip, shotgun, and katana.
The second trailer shows a Ripperdoc putting a cybernetic faceplate on V, which could be another hint at a new gameplay element. Given that the DLC is themed around espionage, this could simply be a disguise as part of the storyline. However, if the faceplate grants any new abilities, it could be much more.
News
In a YouTube comment, CD Projekt Red stated that there will be no further major DLC for Cyberpunk 2077 beyond Phantom Liberty. On the other hand, if Phantom Liberty is a smash hit, who knows what will happen next.
The Phantom Liberty DLC adds a new radio station, Growl FM, to the game that is dedicated to music created by fans. Musically gifted players could enter their original Cyberpunk-inspired songs for a chance to be featured as part of a community contest in Fall 2022.
So far, that's all there is to know about Phantom Liberty.