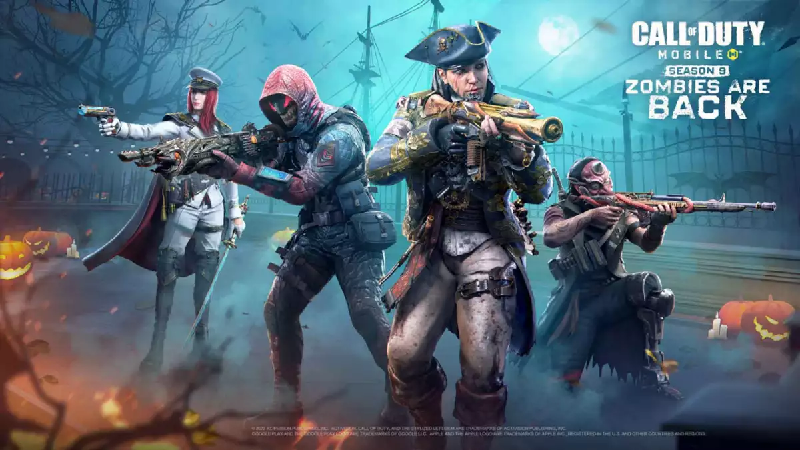 COD Mobile Season 9 Patch Notes: Release date, time
CoD Mobile Season 9 is scheduled to arrive on Wednesday, October 12 at 5 PM PT  /8 PM ET and Thursday, October 13 at 12 AM UTC. The update will be released shortly after Season 8 ends.
COD Mobile Season 9 Patch Notes details
Battle Pass
The arrival of a new CoD Mobile Season means that players will have a brand-new Battle Pass to progress through. As always, there is a free version and a premium version up for grabs in Season 9.
Here are some of the free rewards that have been revealed so far:
C4 explosive (Tier 14)
Krig-6 Assault Rifle (Tier 21)
Camos
Weapon Blueprints
'Misty Seas' Calling Card
If you're willing to spend a little extra then you can choose to purchase the premium Battle Pass. This will grant you access to a variety of other fun rewards, including brand-new Operator skins.
The premium Battle Pass rewards include:
Kui Ji — Sapporo Stealth Operator skin
Domino — Carbon Smoke Operator skin
Zero — Dark Sails Operator skin
Merc 5 — Sea Monster Operator skin.
ICR-1 Weapon Blueprint
SKS Weapon Blueprint
GKS Weapon Blueprint
Chopper Weapon Blueprint
Krig 6 Weapon Blueprint
Multiplayer
New Map: Haunted Hacienda
Halloween arrives at the lavish vineyard estate as Hacienda is transformed for the holiday, including a ghostly set of ships anchored just off the lakefront.
New Mode: Super Attack of the Undead
Deploy as a full group of survivors until one is randomly chosen at the start of the match to join the undead. In this new iteration of the mode, the match goes on until the last human or zombie is standing. Both the infected and survivors gain new capabilities as the match progresses.
Zombie Mode Update
Classic Zombie Mode Limited Time Return – Optimized in-game combat experience and map guidance.
Added the ability to assemble the ultimate skill outside.
New in-game shopping machine where players can spend in-game points to enhance their survivability and acquire out-of-game preset weapons.
New in-game random missions and Richthofen's voice to help players more fully understand the truth about the undead swamp.
Classic Zombie Mode Map – Optimized the area guidance and art performance in the scene.
Reward Update
More rewards, more refreshing experience!
Complete missions to level up Zombie Mode and get great rewards, including J358 – Deadly Scorpion, Tucker Dempsey, and more.
In addition to the zombie mode level, exclusive supply boxes will be dropped in each round, and exclusive rewards such as field axes – volcanic lava will be obtained.
New Weapons
New Assault Rifle, Krig 6 – Medium-range all-round rifle with high mobility, stability and endurance, and high accuracy and hit returns.
New Attachment, Pharo SMG Underbarrel Stun Gun – Equipped with special items in the lower position, you can fire electric shocks to cause damage to enemies in a small range, after firing it takes a period of time to cool down, after equipment, the electric shock device fire button replaces the melee quick knife button.
New Lethal, C4 Explosive – Can adhere to the surface of objects and detonate remotely via remote control.
Balance Changes
Multiplayer & Survival Mode
XPR-50 Enhancement

Damage Increase
Range Adjustment – Vertical Recoil Decrease
Freeze Fire Magazine Effect Adjustment – Remove negative recoil effects, damage bonus adjustment for different distances, increase site damage multiplier.

Outlaw Enhancement

Range adjustment
Damage adjustment
Increases site damage multiplier.

MSMC Tweaks

Damage Boost
Reduced range.

LK24 Enhancements

Horizontal recoil reduction
Raised mirror movement speed increased.

Peacekeeper MK2 Weakened

Weakens the Mirror Movement Bonus provided by the Agile Stock
Weakens the impact lift reduction effect provided by the combat grip skin.
Reduced range

Type 25 Enhancement

Flame Blocking Ammunition
Reduced negative effects on vertical recoil force.
Weakened negative effects on horizontal recoil.
Removed negative effects on the time of lifting.
Fixed the issue that the abdominal area magnification rate did not increase but decreased.
Increases site damage multiplier.

CBR4 Enhancement

Increases site damage magnification
Increased maneuverability.

Locus Enhancement (Prototype Gun)

Runs with reduced delay.
Flame Blocking Ammunition
Reduced negative effects on the speed of the lift.
Reduced negative effects on the rate of fire.
Running shot delay increased.

ICR-1 Enhancement

Range Increased
Increases site damage multiplier.

M16 Enhancements

Damage boost.
Adjust the damage magnification of the site.
Reduce the group interval.
Horizontal recoil decreased.
Vertical recoil decreased.

Holger 26 Enhancement

Damage boost.
Range improvement.
Improved accuracy of mirror lifting.
Airdrop Holger 26 damage in Survival mode has also been further increased.

FR .556 Enhanced

Shortened lifting time.
Shortened running shot delay.
Increases site damage multiplier.

Hades Enhancements
Improved accuracy of lifting mirrors.
Improved accuracy of waist shots.
Long barrel – Reduced negative effects on the movement speed of the mirror.

MW11 Enhanced – Reduces recoil force
Multiplayer – Operator Skill
MQ-27 UAV Enhanced – Increases ammunition volume
Attack Drone Enhancement – Increases bullet damage, range enhancement.
XS1 Power Armor Enhancement – Increase Bullet, damage, increase movement speed
Napalm Enhancement – Reduces the fraction required to start
Bomb Small Aircraft Fleet Weakened – Reduces the number of small aircraft.
Survival Mode
M13 Enhancement – Range boost in survival mode
ZRG 20mm Tweaks – OWC Shooter Barrel Survival Mode Bullet Speed Double Bug Fix
Time Chip Weakening – Weakening the charging speed
Jet Chip Weaken – Weakens the active skill duration