In Bitlife, you can become whatever you want. You can be a doctor, a movie star, or even a mafia member who enters a life of crime; there are numerous paths available to you. In this guide, we will show you how to become a Crab Fisherman in Bitlife. The specifics are as follows.
BitLife Guide – How to Become a Crab Fisherman
Contrary to other positions you want your character to try applying for while playing the game, the crab fisherman job does not require any advanced education. As a result, it is simpler to try to get this job.
Just like with many of the jobs you have to choose in the game, you'll have to age up your character until they reach the age of 18. When you reach this age, go to Occupation, then Jobs, and then look for the Greenhorn career from there.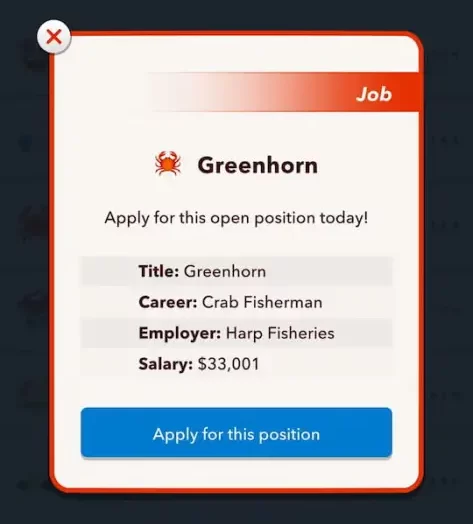 Greenhorn is the first level of the Crab Fisherman career path, and it is the first step for someone who has never worked in this role before. It will be listed in the jobs list with a red crab emoji next to the name, followed by the "Fishery" tag. If you don't see it right away, restart the BitLife app or age up and recheck the page until you do. Other related jobs on the list, such as Deckhand and Captain, may be available, but they require prior work experience.
Once you've found it, apply for the job, pass the interview, and begin crab fishing! While this is all you need to complete the Deadliest Catch Challenge, you are welcome to work hard and advance to Captain.
About Bitlife
BitLife: Life Simulator, or simply BitLife, is a text-based simulator video game created by Candywriter for iOS. The game employs a text-based format in order to create a somewhat accurate simulator while maintaining a high level of playability. The game's goal is to depict a digital life free of struggles and difficulties through cartoons and humorous scenarios.