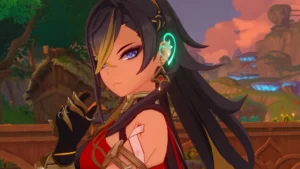 Best Genshin Impact Dehya build
Thanks to Honey Hunter's datamining, we have a good idea of Dehya's playstyle and can prepare accordingly. However, the following is based on information that was apparently leaked from the beta and is therefore subject to change. Here's the best build for Dehya:
Weapon: Beacon of the Reed Sea
Artifacts: Emblem of Severed Fate (four-piece)
We've chosen a build that boosts her burst abilities by boosting her Pyro damage, attack damage, and critical hit rate. Beacon of the Reed Sea is Dehya's signature weapon. It increases its wielder's critical hit rate, maximum health, and attack damage. This claymore gives Dehya an additional 20% attack for eight seconds whenever her elemental skill deals damage to an opponent.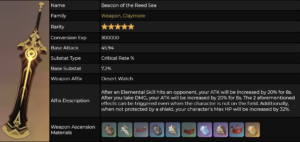 We chose the four-piece Emblem of Severed Fate as artifacts. Dehya gains an additional 20% energy recharge from the two-piece bonus, and the four-piece bonus increases her elemental burst damage by 25% of her energy recharge. This damage bonus is capped at 75%, so you have plenty of room to boost your damage output.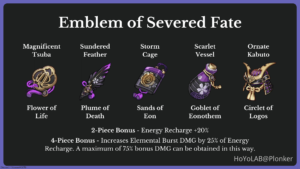 The four-piece Crimson Witch of Flames is another viable option due to its 40% damage increase from Overload, Burn, and Burgeon as well as its 15% Pyro damage bonus. It also boosts Vaporise and Melt damage by 15%, and using Dehya's Elemental Skill boosts the two-piece set bonus (15% Pyro damage) by 50% of its starting value for ten seconds, up to three stacks. Of course, the artifacts are heavily dependent on the best Dehya team composition.
That's all we've got for the best Genshin Impact Dehya build.
About Genshin Impact
Genshin Impact
Developer(s)
miHoYo
Publisher(s)
miHoYo
Producer(s)
Cai Haoyu
Composer(s)
Yu-Peng Chen
Dimeng Yuan
Yijun Jiang
Qian Ding
Xin Zhao
Engine
Unity
Platform(s)

Android
iOS
Windows
PlayStation 5
Nintendo Switch

Release

Android, iOS, PS4, Windows
September 28, 2020
PlayStation 5
April 28, 2021
Nintendo Switch
TBA

Genre(s)
Action role-playing
Mode(s)
Single-player, multiplayer