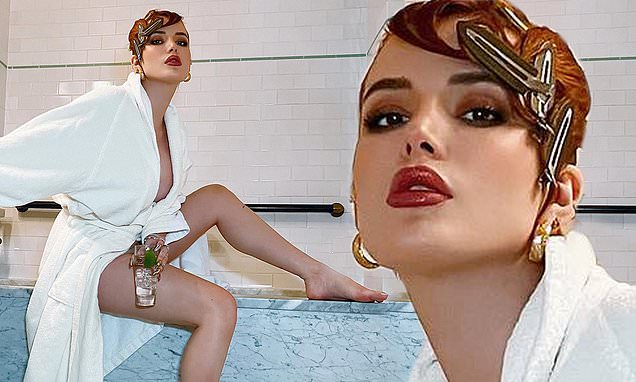 On Friday, Bella Thorne posted a steamy photo of herself from the bathroom to Instagram…
Bella Thorne poses on the edge of a bathtub, drink in hand, to flaunt her cleavage and toned legs in a robe
In her most recent Instagram post, the 25-year-old Game of Love actress posed bare-chested on the edge of a marble bathtub while holding a cocktail glass.
The pop star's hair was immaculately styled in duckbill hair clips, and she sported a full face of glam makeup.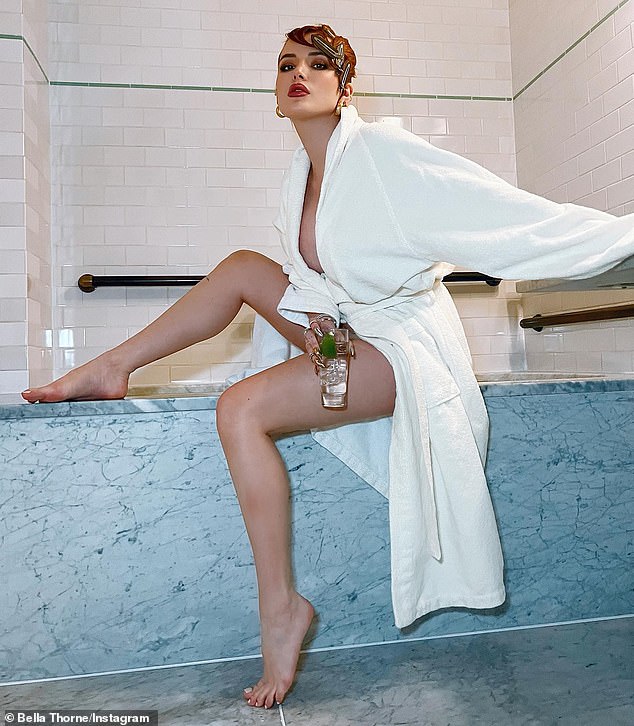 Thorne's bold red lip and warm brown smokey eyeshadow with dark charcoal eyeliner were a beautiful combination.
'Quench That Thirst Babe,' the ex-Disney starlet captioned the photo.
The former Shake It Up star dressed to impress, donning a dazzling array of rings and thick gold hoop earrings.
She appeared to be getting ready, with her fiery red hair styled in an updo and her bangs clipped and laid carefully to the side.
Thorne's long legs and enviable curves were on full display in the alluring photo, which she carefully posed for while wearing only a bathrobe.
The ginger bombshell carefully censored her modesty by holding a glass, which she later asked her fans to guess what was in via a prompt posted on her Instagram Story.
The Florida native complemented her clear drink with a slice of lime and an eye-catching chrome manicure.
The young actress most recently appeared in Divinity, a sci-fi thriller which had its world premiere at the Sundance Film Festival on January 21.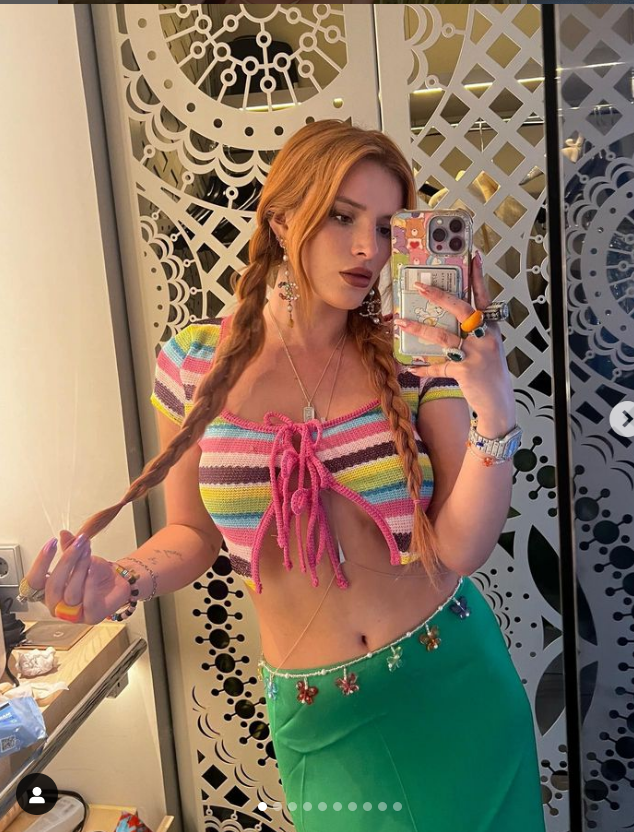 Thorne starred alongside Scott Bakula, Stephen Dorff, Moises Arias, Jason Genao, and Karrueche Tran.
The critical response to the film was divided, earning it a 55% approval rating on review aggregator site Rotten Tomatoes.
Although a specific date has not been announced as of yet, audiences can anticipate seeing Thorne in theaters this fall.
READ NEXT :