The homes of some of the most famous people in the world, from Kim Kardashian to Kylie Jenner…, show that celebrity life isn't always as picture perfect as Instagram makes it out to be.
It's a celebrity 'trend' to post photos of their messy homes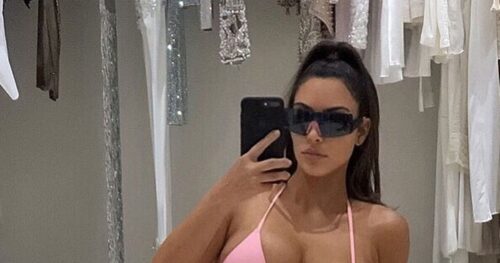 Those who have seen Kim's shoot for Architectural Digest may be baffled by the prospect of a mess developing in such a spare space.
The founder of SKIMS may be known for her preference of neutral colors, but this isn't the case when it comes to her clothing.
When her now-nine-year-old daughter North was younger, she posted a photo of her cluttered walk-in closet.
North was observed mucking around with a pair of joggers amidst the strewn clothing and hangers. (Which, no doubt, came at a hefty price.)
Kourtney Kardashian-Jenner, the eldest of her family, is also known for her cluttered closet.
The Poosh founder was photographed trying on a pair of bright pink trousers while posing next to a pile of shoes and socks on the floor.
Bella Thorne has shown that she can make as much of a mess in her room as the rest of us.
The 25-year-old actress once took a cute swimsuit photo in her room, but it wasn't just the gorgeous orange bikini that fans noticed.
Bella's room was not the cleanest we'd ever seen, with clothes piled on the bed and boxes of papers strewn about the floor.
Stormi, her five-year-old daughter, may be responsible for this one by going rogue with some paint and a paintbrush, but it still makes the cut.
Who could forget when Kylie Jenner, founder of Kylie Cosmetics, posted a video to her Instagram story showing her daughter's bathroom a complete disaster?
The mother of two, who had just seen Stormi's bathroom, which featured a sink full of purple water with a floating toy baby, a marble countertop, and white walls with paint splashes, admitted that she couldn't stay mad at her for long.
Chloe Ferry has shown that she is not the most neat and tidy person.
The reality star was photographed in her camouflage two piece, and her room was a mess of discarded garments and bath towels.
READ NEXT :