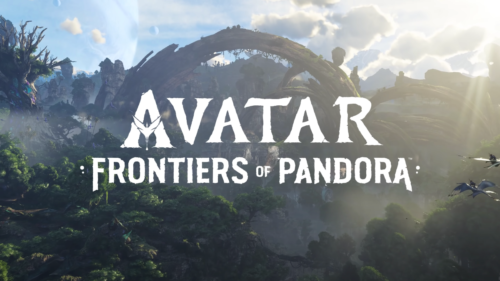 Ubisoft has been mum on Avatar: Frontiers of Pandora, but that hasn't stopped recent leaked screenshots from giving us a glimpse at what to expect.
Avatar: Frontiers Of Pandora leaked screenshots
AFOP likely always first person 🤗 pic.twitter.com/TOp7jiacut

— Script (@ScriptLeaksR6) March 27, 2023
The screenshots were shared on Twitter by ScriptLeaksR6. Aside from the screenshots appearing to be genuine, this is the same person who leaked the Assassin's Creed Mirage artwork and Frontiers of Pandora pre-order bonuses. They've now leaked two screenshots from the game. The first is an FPS perspective shot of the player, a Na'vi, facing up against one of the large AMP suits while holding a gun – most likely taken from a human soldier. Soldiers can be seen scattering in the background as a result of an explosion at some sort of base.
The second screenshot appears to be from a cutscene, with the player character or an NPC riding one of the banshees and swooping down on a body of water in the middle of a lush forest. Native fauna can also be seen fleeing the banshee. The Na'vi and Banshee's gear appears to be far more intricate than we've seen in the movies, suggesting that it may be customisable.
Posting AFOP gameplay soon pic.twitter.com/5l0hjUkc2M

— Script (@ScriptLeaksR6) March 27, 2023
To top it all off, the leaker has stated that gameplay footage will be posted soon. The developers haven't revealed the game's basic structure, but knowing Ubisoft, it'll most likely be an open world. One of the comments on the Tweets says it reminds them of Far Cry, and even though it's only two images, it does.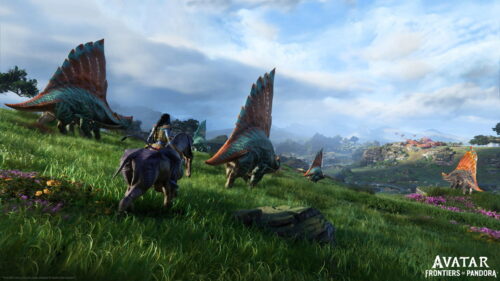 The last time we heard anything concrete about the game, James Cameron stated that he would take a hands-off approach to it. "I don't tell them what to do — they know their world, their business, their market," he said in an interview. "We just keep a close eye that they don't do anything that's not canonical in terms of Na'vi culture and what the RDA is doing on Pandora and all that sort of thing."
That's what we know so far about Avatar: Frontiers Of Pandora.