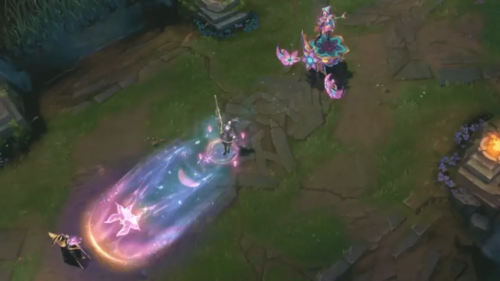 Everything we know about LoL Patch 13.7, including the release date, new skins, and patch notes, is available below.
LoL patch 13.7 release date
Patch 13.7 of League of Legends is currently being tested on the FPB server and will be released on April 5, 2023. The following are the key patch rollout times for some of the major League servers:
3 AM PT (NA servers)
5 AM GMT (WEU servers)
3 AM CET (EEU servers)
8 AM KR (Korea)
LoL patch 13.7 skins
The new skins will match the Cats vs Dogs theme, as all abilities will involve cats and dogs in the animation.
Meet your fur-ever friends! 😻🐶 pic.twitter.com/K6XvvYol6o

— League of Legends (@LeagueOfLegends) March 21, 2023
LoL 13.7 patch notes details :
Champion nerfs
Rammus
W armor ratio reduced from 40% – 100% to 40% – 80%
eigar
P AP per stack changed from 1 to 0.75 – 1.2 (per level)
Olaf
Sejuani
Vi
Q base damage reduced from 55 – 155 to 45 – 145
Q bonus AD ratio increased from 70% to 80%
E AD ratio increased from 110% to 120%
E AP ratio increased from 90% to 100%
Wukong
Lee Sin
Zeri
Health growth reduced from 115 to 110
P shield steal reduced from 60% to 45%
R bonus AD ratio reduced from 100% to 85%
Annie
E cooldown increased from 12 – 8 seconds to 12 – 10
E base shield reduced from 60 – 220 to 60 – 200
Champion buffs
Azir
Base armor increased from 19 to 22
Attack speed growth increased
Turret duration increased from 30 seconds to 45
Q mana cost increased from 65 – 85 to 70 – 110
Q cast range down
W mana cost reduced from 40 flat to 40 – 10
W base damage increased from 50 – 90 to 50 – 118
W damage per lvl reduced from 0 – 110 to 0 – 92
Katarina
P dagger AP ratio increased from 65 – 95% to 70% – 100%
Kalista
AD growth increased from 3.5 to 4.06
Graves
Alistar
Yasuo
P shield increased from 100 – 475 to 100 – 575
E bonus per stack increased from 15 – 25 base to 15% – 23% total damage
E stacks increased from 2 to 4
Balance Changes
Item changes
Death's Dance
Build path changed from 2 Picks + Vest to Pick + Vest + Warhammer (same price)
AD reduced from 65 to 55 – Armor reduced from 50 to 45 –
Ability haste increased from 0 to 15
Rod of Ages
Cosmic Drive