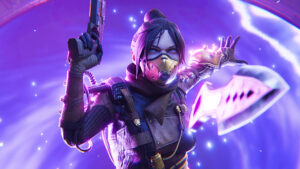 Season 16 of Apex Legends will begin soon; here are the important details you need to know, including the release date and patch notes.
Apex Legends Season 16 release date
The official release date of Season 16 of Apex Legends is currently scheduled for February 14. We will update this article when we have more information about the release date.
Apex Legends Season 16 patch notes
Season 16 patch notes have not yet been released, but numerous leaks have supposedly revealed some of the upcoming content and changes.
Apex Legends Anniversary event 2023
Apex Legends celebrated its fourth anniversary this year with an Anniversary Collection Event. Players will be able to obtain a variety of login rewards, as well as themed map decorations. You can find more information about this event in this article.
Remastered Legend classes
To begin, Respawn will implement a new Class system. Each Legend will be assigned to one of the following five classes:
Assault (Bangalore, Ash, Fuse, Revenant, Mad Maggie) can access weapon supply bins and carry more ammunition.
Skirmishers (Wraith, Mirage, Octane, Horizon, Valkyrie, Pathfinder) have "care package insight" and focus on combat mobility.
Recon (Crypto, Vantage, Bloodhound, Seer) can access survey beacons and track enemy squads.
Controllers (Caustic, Wattson, Rampart, Catalyst) focus on area setup and access consoles to see where the ring is moving.
Support (Lifeline, Loba, Gibraltar, Newcastle) can craft ally banners to revive fallen allies and access extended supply bins to get more loot.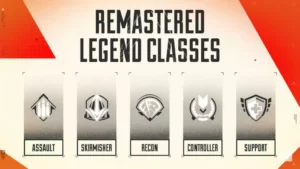 Furthermore, Apex Legends Season 16 will not include a new Legend. The reason for this is that the developers believe the game has evolved significantly since its initial release, with "15 new Legends, 4 new maps, dozens of events, and weapons." As a result, they believe that the Season 16 update should concentrate on improving the "core gameplay experience to better match where players are today," rather than simply introducing a new Legend.
Legends buffs and nerfs
Along with these class changes, specific heroes will receive significant nerfs and buffs. Here's a list of each change to Legends that we currently know about.
Wraith – Portal distance doubled, speed while creating portal doubled.
Seer – Reduced ultimate frequency and audible heartbeat sensors.
Bloodhound – Ultimate creates ravens that fly towards enemy squads near you, ultimate no longer reduces cooldown of your active ability.
Valkyrie – Removed the scan
Lifeline – Care package speed and range increased, faster after revivals
Mirage – Both Mirage and teammates he revives are cloaked for 3 seconds, which breaks if you draw a weapon. Bamboozled enemies are tracked.
Pathfinder – Quicker and longer ziplines
Horizon – Spread and movement inside ultimate nerfed
New weapon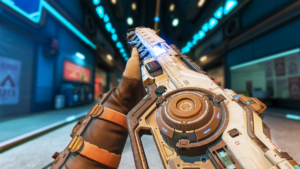 Nemesis is a brand-new energy weapon that will debut on the first day of the new season. The team isn't holding back with this new weapon, either. They claim that the goal is to upend the current status quo between the R-301 and Flatline assault rifles. With the Nemesis aiming to be a new loadout frontrunner, it's likely to be loaded to the gills with firepower.
The R-301 is being nerfed in Season 16, with damage reduced from 14 to 13.

Additionally, all assault rifles will now have reduced hip fire accuracy. This is to make ARs less powerful at close range, where SMGs, Shotguns and Pistols should dominate. #ApexLegends pic.twitter.com/TmvOQwekt5

— Apex Legends News (@alphaINTEL) February 6, 2023
New onboarding experience
Apex Legends' onboarding experience will be revamped to make new players feel more at ease. The Firing Range will be updated, as well as new Dummy strafing challenges and stat tracking. In addition, new players will be able to queue into bot-only matches before moving on to real-player matches. 
New game modes
Do you remember Arenas? Respawn Entertainment believes that they are currently failing to meet the expectations of Apex Legends players. As a result, the game mode has been removed from Season 16 for the time being. It's unclear whether the mode will return anytime soon.
Team Deathmatch will be introduced to replace Arenas. In this 6v6 mode, players will compete to be the first to 30 kills. There will be another round once this is accomplished. The first team to win two rounds will be the overall winner.
Team Deathmatch will be available when Season 16 of Apex Legends comes out. We'll get a new playlist called "Mixtape" after three weeks, which will be a rotating playlist of small-scale modes like TDM, Gun Run, and Control. This is intended to be a more casual experience for players to learn about heroes or warm up before diving into Battle Royale.
That sums up everything you need to know about Apex Legends Season 16.