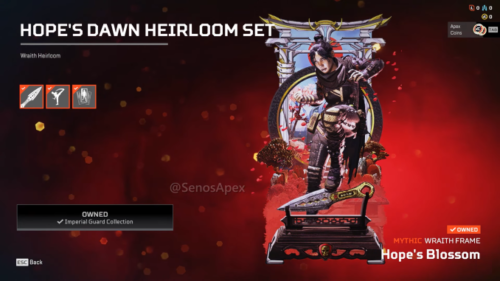 The release date, skins, and other details for the Apex Legends Imperial Guard event have all been revealed below.
Apex Legends Imperial Guard Collection Event expected release date
The Apex Legends Imperial Guard Collection Event has no official release date, but it was confirmed by Respawn when they released an image of the Season 16 roadmap. The Imperial Guard Collection Event is listed under "and more" in the image, implying that it will be available later in Season 16.
The small image of the roadmap shows World's Edge in the background, which could indicate map changes for this event.
Team Deathmatch, remastered Legend classes, and the all-new Nemesis rifle — this Season is shaping up to be the wildest party in Outlands history 🥳

Drop into the fun when Revelry launches on Feb 14.

👉 https://t.co/dvKgAaRcyD pic.twitter.com/wyMm1UJ8pu

— Apex Legends (@PlayApex) February 8, 2023
Apex Legends Imperial Guard leaks
Senos, an Apex Legends leaker, has revealed the entire 24 cosmetic item collection for the Imperial Guard event. The event will include Legendary skins for Wraith, Gibraltar, Loba, Octane, Revenant, and Wattson, according to leaks.
Some guns, such as the Wingman, G7 Scout, and 30-30 Repeater, have been rumored to receive Legendary skins, though it's important to keep in mind that these rumors are based on nothing more than leaks.
The Heirloom appears to be a recolor of the Wraith Kunai, which has been rumored for quite some time.
We'll keep you updated as more information about the Apex Legends Imperial Guard Collection Event becomes available from Respawn, so stay tuned.
About Apex Legends
Apex Legends
Developer(s)
Respawn Entertainment
Publisher(s)
Electronic Arts
Director(s)
Steven Ferreira
Producer(s)
Ben Brinkman
Designer(s)
Jason McCord
Artist(s)

Robert Taube
Kaelan De Niese
Ryan Lastimosa
Benjamin Bisson
Jung Park

Writer(s)
Mohammad Alavi
Composer(s)
Stephen Barton
Series
Titanfall
Engine
Platform(s)

PlayStation 4
Windows
Xbox One
Nintendo Switch
PlayStation 5
Xbox Series X/S
Android
iOS

Release

PS4, Windows, Xbox One
February 4, 2019
Nintendo Switch
March 9, 2021
PS5, Xbox Series X/S
March 29, 2022
Android, iOS
May 17, 2022

Genre(s)
Battle royale, first-person hero shooter
Mode(s)
Multiplayer