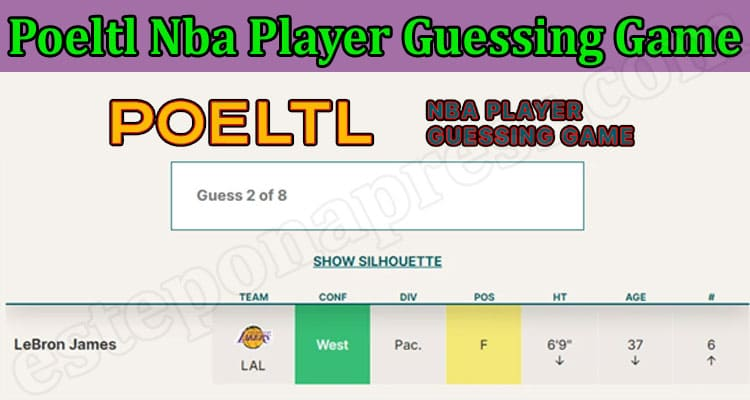 What is Poeltl ?
This game is named after one of the famous NBA players, Jakob Poeltl. When web designer Gabe Danon tweaks his modest NBA Fanatics creation, the game issues a public notice.
How to play Poeltl ?
In Poeltl, there are eight categories: player name, team, conference, division, position, height, age, and jersey number, users guess an NBA player, and the categories will appear in green, yellow, or no color.
Green means the guess is correct, yellow means it's close in some way, and no color means it's completely wrong.
In Poeltl, yellow in the team color means the player played for that squad at some point previously but doesn't currently, yellow in the position column means it's partially correct and yellow in either the height, age or jersey number column means the right answer is within two of the guess .
A unique feature of Poeltl is that, at any time, you can click to bring up a silhouette of the player to help you, and that doesn't count towards your six tries.
In this page, you can find All Poeltl Answers .
Poeltl August 15, 2022 Answer is : Darius Bazley
Archive Poeltl Answers (August 2022)
August 14, 2022 #171 AL HORFORD
August 13, 2022 #170 CARIS LEVERT
August 12, 2022 #169 ISH SMITH
August 11, 2022 #168 DENNIS SCHRODER
August 10, 2022 #167 MITCHELL ROBINSON
August 9, 2022 #166 THADDEUS YOUNG
August 8, 2022 #165 IVICA ZUBAC
August 7, 2022 #164 DWIGHT HOWARD
August 6, 2022 #163 BROOK LOPEZ
August 5, 2022 #162 STEPHEN CURRY
August 4, 2022 #161 KHRIS MIDDLETON
August 3, 2022 #160 TORREY CRAIG
August 2, 2022 #159 DUCAN ROBINSON
August 1, 2022 #158 PATRICK WILLIAMS
Archive Poeltl Answers (July 2022)
July 31, 2022 #157 TREY LYLES
July 30, 2022 #156 DANUEL HOUSE JR.
July 29, 2022 #155 T.J.MCCONNELL
July 28, 2022 #154 JOE INGLES
July 27, 2022 #153 MONTE MORRIS
July 26, 2022 #152 SPENCER DINWIDDIE
July 25, 2022 #151 JEREMY LAMB
July 24, 2022 #150 CHRIS BOUCHER
July 23, 2022 #149 CHRIS BOUCHER
July 22, 2022 #148 ERIC PASCHALL
July 21, 2022 #147 RUI HACHIMURA
July 20, 2022 #146 JOCK LANDALE 
July 19, 2022 #145 JUSTISE WINSLOW
July 18, 2022 #144 JOSH RICHARDSON
July 17, 2022 #143 MALIK MONK
July 16, 2022 #142 LUKA GARZA
July 15, 2022 #141 LOU WILLIAMS
July 14, 2022 #140 TYRESE MAXEY
July 13, 2022 #139 DOUG MCDERMOTT
July 12, 2022 #138 NERLENS NOEL
July 11, 2022 #137 KEITA BATES DIOP
July 10, 2022 #136 HASSAN WHITESIDE
July 9, 2022 #135 UDOKA AZUBUIKE
July 8, 2022 #134 GARRETT TEMPLE
July 7, 2022 #133 TYRESE HALIBURTON
July 6, 2022 #132 JIMMY BUTLER
July 5, 2022 #131 LARRY NANCE JR
July 4, 2022 #130 WENDELL CARTER JR
July 3, 2022 #129 MARKELLE FULTZ
July 2, 2022 #128 KRISTAPS PORZINGIS
July 1, 2022 #127 DERRICK ROSE
Archive Poeltl Answers (June 2022)
June 30, 2022 #126 KEVIN LOVE
June 29, 2022 #125 BAM ADEBAYO
June 28, 2022 #124 JAREN JACKSON JR
June 27, 2022 #123 GIANNIS ANTETOKOUNMPO
June 26, 2022 #122 MILES BRIDGES
June 25, 2022 #121 KEVIN HUERTER
June 24, 2022 #120 OG ANUNOBY
June 23, 2022 #119 JONATHAN KUMINGA
June 22, 2022 #118 RUDY GAY
June 21, 2022 #117 DEWAYNE DEDMON
June 20, 2022 #116 MAX STRUS
June 19, 2022 #115 ALPEREN SENGUN
June 18, 2022 #114 PAUL GEORGE
June 17, 2022 #113 ELIJAH HUGHES
June 16, 2022 #112 JAVONTE GREEN
June 15, 2022 #111 JOSH OKOGIE
June 14, 2022 #110 AARON GORDON
June 13, 2022 #109 GARY TRENT JR
June 12, 2022 #108 AMIR COFFEY
June 11, 2022 #107 GORDON HAYWARD
June 10, 2022 #106 KLAY THOMPSON
June 9, 2022 #105 Patrick Beverley
June 8, 2022 #104 SETH CURRY
June 7, 2022 #103 COBY WHITE
June 6, 2022 #102 DOMANTAS SABONIS
June 5, 2022 #101 DELON WRIGHT
June 4, 2022 #100 TRE MANN
June 3, 2022 #99 D'ANGELO RUSSELL
June 2, 2022 #98 GARY PAYTON II
June 1, 2022 #97 KEVIN PORTER JR
Archive Poeltl Answers (May 2022)
May 31, 2022 #96 Dwight Powell May 30, 2022 #95 Jordan Clarkson May 29, 2022 #94 Reggie Bullock May 28, 2022 #93 Nicholas Butt May 27, 2022 #92 Reggie Jackson May 26, 2022 #91 Jonathan Isaacs May 25 , 2022 #90 KHEM BIRCH May 24, 2022 #89 NEMANJA BJELICA May 23, 2022 #88 Omar Yurtseven May 22, 2022 #87 Terence Mann May 21, 2022 #86 Boban Marjanovic May 20, 2022 #85 RJ Barrett May 19, 2022 #84 Isaiah Stewart May 18, 2022 #83 Lance Stephenson May 17, 2022 #82 Jaa Morant May 16, 2022 #81 NIC Claxton May 15, 2022 #80 DRAYMOND GREEN May 14, 2022 #79 DEAARON FOX May 13, 2022 #78 Bol Bol 12 May 2022 #77 Avery Bradley 11 May 2022 #76 Cam Reddish 10 May 2022 #75 Alex Lane 9 May 2022 #74 Kent Bezmore 8 May 2022 #73 TJ Warren 7 May 2022 #72 Paul Milsap May 6 2022 #71 Frank Kaminsky May 5, 2022 #70 Andre Drummond May 4, 2022 #69 Cedi Osman May 3, 2022 #68 Xavier Tillman May 2, 2022 #67 Desmond Bain May 1, 2022 #66 Jalen Smith
Archive Poeltl Answers (April 2022)
April 30, 2022 #65 Austin April 29, 2022 #64 Carmelo Anthony April 28, 2022 #63 Tony Snell April 27, 2022 #62 Naz Reed April 26, 2022 #61 Tobias Harris April 25, 2022 #60 Paul George April 24, 2022 #59 Hamidou Diallo April 23, 2022 #58 Davian Mitchell April 22, 2022 #57 Landry Shemet April 21, 2022 #56 Jalen Brown April 20, 2022 #55 Kelly Olinik April 19, 2022 #54 Keon Johnson April 18, 2022 # 53 Luke Kennard April 17, 2022 #52 Jalen Johnson April 16, 2022 #51 Jae Crowder April 15, 2022 #50 Kevan Looney April 14, 2022 #49 Killian Hayes April 13, 2022 #48 Fred VanVleet April 12, 2022 #47 Taurean Prince April 11, 2022 #46 Eudonis Haslam April 10, 2022 #45 Corey Joseph April 9, 2022 #44 Bruce Brown April 8, 2022 #43 Emmanuel Quickley April 7, 2022 #42 Kyle Lowry April 6, 2022 #41 PJ Tucker April 5, 2022 #40 Goran Dragic April 4, 2022 #39 Giare Williams April 3, 2022 #38 Kyle Kuzma April 2, 2022 #37 Terence Ross April 1, 2022 #36 Dario Saric
Archive Poeltl Answers (March 2022)
March 31, 2022 #35 Victor Oladipo March 30, 2022 #34 Jeremiah Robinson-Earl March 29, 2022 #33 Mason Plumley March 28, 2022 #32 Luka Doncic March 27, 2022 #31 Tre Jones March 26, 2022 #30 Javale MCGE 25 Mar 2022 #29 Ricky Rubio 24 Mar 2022 #28 Jeff Greene 23 Mar 2022 #27 Alex Pokusevsky 22 Mar 2022 #26 Paul Reid 21 Mar 2022 #25 Jalen Brunson 20 Mar 2022 #24 Bones Highland Mar 19, 2022 #23 Lamarcus Aldridge March 18, 2022 #22 Karl-Anthony Towns March 17, 2022 #21 Jusuf Narkik March 16, 2022 #20 Ayo Dosunmu March 15, 2022 #19 Lonnie Walker IV March 14, 2022 #18 Robert Williams III March 13, 2022 #17 Cameron Johnson March 12, 2022 #16 Kentavius ​​Caldwell Pope March 11, 2022 #15 Shek Milton March 10, 2022 #14 Bobby Portis March 9, 2022 #13 Alpern Sengun March 8, 2022 #12 David Duke Jr. March 7, 2022 #11 Trevor Ariza March 6, 2022 #10 Danilo Gallinari March 5, 2022 #9 Tristan Thompson March 4, 2022 #8 Mikael Bridges