New biomes and features, including mangrove swamps and ancient cities, were made available to players in Minecraft 1.19's Wild Update. Mangrove swamps are essentially an improved version of regular swamps. They have deeper waters, fish, frogs, and mangrove trees, all of which give these biomes a new lease on life. Check out this list 4 Best Mangrove Swamp Java Seeds for Minecraft 1.19 .
Best Mangrove Swamp Java Seeds in Minecraft 1.19
Quad Witch Hut near Mangrove Swamp: -6429451387966046826
Mangrove Swamp Village: 67561815575817929
Village & Stronghold beside Mangrove Swamp: 348722287802000751
Village on Water: 249386829365641221
1. Quad Witch Hut near Mangrove Swamp
Seed: -6429451387966046826
Key locations:
Witch Huts: 296, 312
Desert Temple: -1,304, 168
Plains Village: 296, 232
Ancient City: -168, -51, -1,416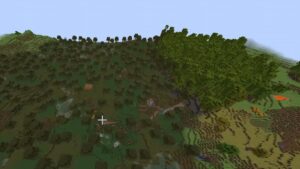 This seed is excellent for 1.19 because it has four rare Witch Huts close to one another in addition to a sizable mangrove swamp near the spawn point. Travel southeast from your spawn point until you come across the old swamp biome bordering the mangrove swamp. This is where you will find the Witch Huts. In addition, there are some Ruined Portals and a Desert Temple nearby, as well as a Plains Village.
2. Mangrove Swamp Village
Seed: 348722287802000751
Key locations:
Coral Reef: 662, 63, 201
Mangrove Swamp: 735, 63, 234
Village: 776, 66, 204
Amethyst Geode: 358, 31, 116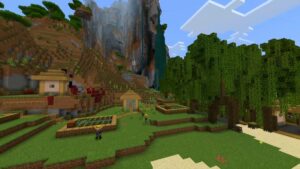 For players who want to begin a new game in the mangrove swamp biome, this is among the best starter seeds. This seed not only spawns you close to a village, but also directly below the village, underground, is a stronghold. Players will also come across enormous caves, coral reefs, and even a shipwreck. These factors make this seed advantageous for players who want to create a speedrun.
3. Village & Stronghold beside Mangrove Swamp
Seed: 67561815575817929
Key locations:
Ancient City: -1055, -41, 105
Lush & Dripstone Cave: -375, -1, 115
Dungeon: -141, -32, 91
Ruined Portal: 45, 72, 10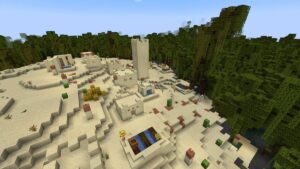 By using this seed, you can travel to a village in a mangrove swamp near a breathtaking waterfall. The village has a Ruined Portal, and your starting point is near the mangrove swamp. This seed also grants access to dripstone caves, dungeons, and pillager outposts, where valuable treasure can be looted.
4. Village on Water
Seed: 249386829365641221
Key locations:
Village on water: -770, 65, -1100
Secret Mineshaft: 730, -30, 245
Ancient City: 625, -35, 250
Mangrove Swamp: 0, 0, 0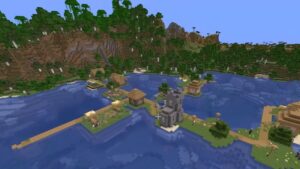 This is a good chance to see both the old and new swamps since the Mangrove Swamp is divided from the typical swamp to the north of where you spawn. The village near the mangrove swamp that seems to float entirely on water is the most intriguing feature of this seed.