While many kids these days spend time inside playing on tablets, watching television shows or playing video games, there are still activities outside they can do that will be just as fun! Encourage them to get outside, get active and learn about gardening. Here are some ways to make gardening so fun for kids that they won't want to do anything else!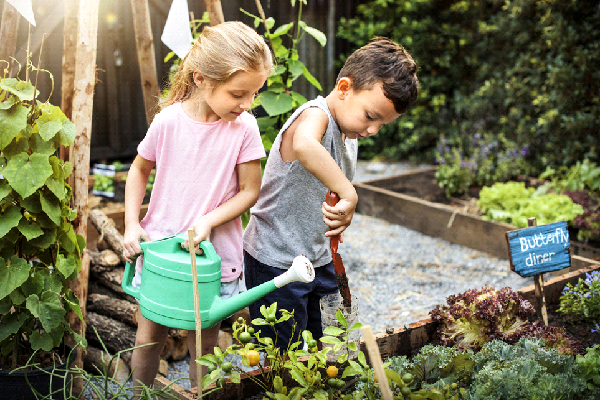 1. Make All the Mess
One of the best parts about gardening is that it's one of the few activities where it's okay to make a mess! Whether it's pulling out weeds or digging a hole in the soil, gardening is a creative outlet the kids can safely get messy in that doesn't ruin other things, like furniture. Encourage them to get messy while outside. Make sure they wear clothes that you don't mind them getting mud or grass stains on, but also remind them to use gloves and even an apron to prevent them from getting hurt while pulling out weeds and thorns!
2. Have Them Help Decorate
Decorating a backyard garden area is a fun activity the kids can help you do! Get them involved in helping you lay down unique personalized garden stones, setting up fun string lights or placing decorative pillows on the outdoor furniture. They'll be so glad to put their own spin on the outdoor space. It'll make them want to spend more time outside, too, since they contributed to the look of the outdoor space.
3. Visit Somewhere New
Taking the kids to a new outdoor area to explore can help them stay interested in nature and gardening. Visit a local park or take a weekend trip somewhere entirely new for everyone and schedule a tour with a park ranger. They can explain the local flora and fauna to the kids and engage them in age-appropriate activities that will keep them inspired to stick with the hobby. Who knows? It might even encourage your young ones to start a career as a park ranger when they get older!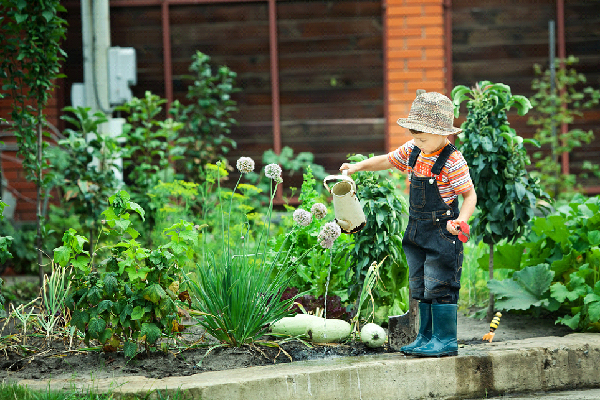 4. Start Small
Don't take off full speed when planning out getting your kids involved in the garden. Start by choosing flowers and other plants that don't take a long time to grow or aren't very large. Kids don't tend to have a lot of patience, so getting them hooked on gardening early is imperative. You can plant sunflowers, have them help you choose the perfect personalized garden flag for the yard or you can even have them do tasks such as putting in fresh soil or watering the plants you've already started to grow. These tasks tend to be things that you might find taxing or monotonous, so having the kids do it will let you focus on doing the things you find more fun!
5. Plant Foods and Herbs
Your kids deserve to know the benefits of fresh produce from an early age. Planting vegetables such as tomatoes, lettuce and carrots, as well as herbs such as rosemary, dill and basil, will help you exemplify the importance of fresh produce and herbs early on. Plus, the kids will love getting to eat the things they grew in the garden! They'll be so excited to watch their plants turn into homemade tomato sauce and serve as flavor in their meals.
6. Get Other Kids Involved, Too
If you're up to the task, offer to help teach the neighborhood kids about gardening, too! You can host them once or twice a week and teach them different things about gardening. As the plants grow, you can invite their parents over to see how the garden is growing. On top of that, you could even make the backyard garden a community garden, where the parents submit orders for fresh fruit or vegetables from you and then you deliver them to their front door. It's a great way to get the neighborhood involved and encourage other kids to enjoy gardening, too!
7. Play with the Bugs
Sure, some of us are not the best when it comes to the crawlies. While spiders, ants and caterpillars might make us cringe as adults, most kids think they're interesting and cool. Don't diminish their interest. Let them look at or hold the bugs they find in the yard. Teach them about the process of caterpillars turning into butterflies or that some cultures even eat snails as a fancy dish. They will go on to enjoy life outdoors if they are exposed early to insects and learn they have nothing to fear.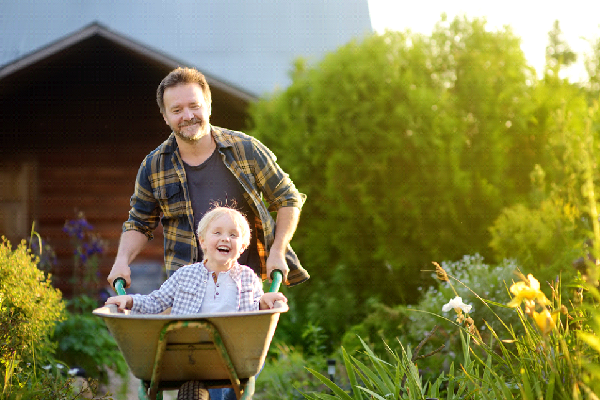 8. Turn It Into Art
A fun, unique activity to do with the kids is to press flowers! You can add them to shadow boxes and turn them into wall art, or you can keep them in a scrapbook for the kids to look at later. It's also a great way to research the flowers that you grow in the garden. By adding additional information about the flowers you press, such as their scientific name or their unique characteristics, you can create an interest in botany in your kids!
9. Decorate Planters
If you're adding planters to your garden or transferring some of the plants in your garden into planters, you can get the kids involved in helping you decorate them! Let the kids explore with finger painting, learning about new paint strokes or even have them help you label which planters are for each plant. This will embrace their creative side and encourage them to associate gardening with art!
10. Let Them Read Outside
The outdoor oasis means nothing if the kids can't spend time in it! Create a reading space within your garden. Set up a small bench or chair with some string lights overhead that the kids can sit on and take some time to read and enjoy nature. By combining other activities with gardening, the kids will come to associate it with things they like to do! In turn, they'll enjoy gardening, too.