Ashley Graham posted an at-home workout clip on Friday, showing off what partly contributed to her body transformation.
In her Instagram Stories video, the supermodel reveals her slim waist and voluptuous figure from the neck down.
Her shapely gams were highlighted by a tight, sleeveless white undershirt that she had lifted to reveal part of her flat tummy, and her slim black leggings had a tight fit.
Ashley walked on a treadmill at an angle of 15 degrees for 30 minutes. "Incline on level 15 for 30 minutes," she captioned.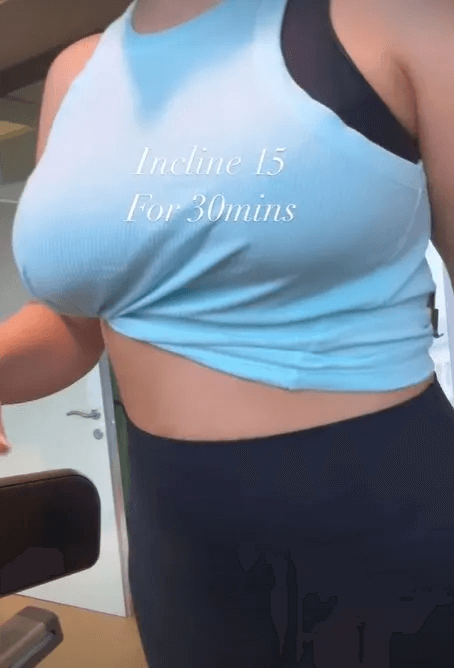 In Ashley's Stories slide, it was evident that she had lost some weight.
The fact that she lost a lot of weight, however, caught the attention of many fans.
"Has anyone noticed Ashley's getting trimmer?" one commenter asked.
"Yes, she's getting smaller every time she posts." another replied.
Another commented, "Her face looks the same but not the same as it did before, so sad."
"I didn't recognize you," admitted a fourth.
"She's not a plus size anymore," added another.
Others defended the model and urged people to stop judging her appearance.
As a fan pointed out, she wanted to lose weight simply to feel more confident in her own skin. "I just don't understand the negativity displayed by a lot of you," the critic said.
As another said, "I'm so tired of the 'she's not plus size' nonsense…any size over 14 is a plus-size model, so she's still a plus-size model. She looks good."
Currently, Ashley Graham is best known for being a TV presenter, model, and social media influencer in the US. She won the Maxim magazine's sexiest woman award for 2023 over golf influencer Paige Spiranac.
Read next :
About Ashley Graham :
A plus-sized model and television presenter, Ashley Graham Ervin (born October 30, 1987) made her debut in 2016 with the Sports Illustrated Swimsuit Issue. In 2016, she published her first book, A New Model: What Confidence, Beauty, and Power Look Like, which contributes to the movement for body positivity and inclusion.