Ash's journey has finally come to an end. The trainer from Pallet Town will no longer appear in the new Pokemon anime series, but will be replaced by two new main characters, Liko and Roy.
Who Are Liko And Roy In The New Pokemon Anime Series?
The Pokemon anime has been running for many years, with Ash as the main character. It has been on television since 1997, and it is now time for two new characters to take over.
Pokemon Ultimate Journeys: The Series, which will be released in 2023, introduces two new protagonists. Liko and Roy are the newest dual protagonists to join the Pokemon anime, taking over for Ash after a 25-year absence. They will begin their journey in Paldea, where they will encounter the new Pokemon starters as well as others such as Fidough and Lechonk.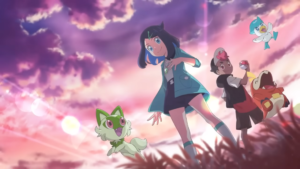 In addition, the company announced that it will produce a collection of 11 special episodes to conclude the Pokémon Ultimate Journeys: The Series anime, which will commemorate Ash's adventures over the course of 25 seasons. The episodes will feature fan favorites like Misty and Brock, and will "provide a glimpse into what the future holds… in this final chapter for Ash and Pikachu," according to the company.
While there isn't much information on these two new kids on the block right now, we will make sure to update this as soon as any information becomes available so you can be prepared for the new Pokemon anime!
Ash Ketchum
Ash Ketchum
Pokémon character
First appearance
"Pokémon, I Choose You!" (1997)
Created by
Satoshi Tajiri
Based on
Red
Designed by
Ken Sugimori and Atsuko Nishida (video games)
Sayuri Ichishi (Seasons 1–9)
Toshiya Yamada (Seasons 10–16)
Toshihito Hirooka (Seasons 17–19)
Satoshi Nakano (Seasons 20–23)
Shūhei Yasuda (Seasons 20–present)
Voiced by

Japanese
Rika Matsumoto
Hana Takeda (PJ 001; age 6)
English
Veronica Taylor (Seasons 1–8)
Kayzie Rogers (MoMP original dub)
Sarah Natochenny (Season 9–present)
Korean
Choi Deok-Hui (Original series, original dubs of M01–M02)
An Hyeon-Seo (original dubs of M03–M05)
Lee Seon-ho (Advanced Generation series–present, M06–present, redubbed movies)
Hindi
Nachiket Dighe (Season 1–9, 11–present) and Prasad Barve (Season 10)
Tamil
Raghuvaran (Season 1–16)

In-universe information
Alias
Satoshi (Japanese name)
Species
Human
Gender
Male
Title

Honored Trainer
Pokémon Champion
Monarch

Occupation

Pokémon Trainer
Ultra Guardians of the Aether Foundation
Research fellow at Professor Cerise's Laboratory

Family

Delia Ketchum (mother)
Unnamed father
Unnamed grandfather

Home
Pallet Town, Kanto