We enter Week 12 of the NFL season with as many key players injured as ever. Let's take a look at Justin Fields, PJ Walker, Joe Mixon, and Leonard Fournette's injuries and how serious they are.
Fantasy Injury Week 12 Update: Justin Fields, PJ Walker, Joe Mixon and Leonard Fournette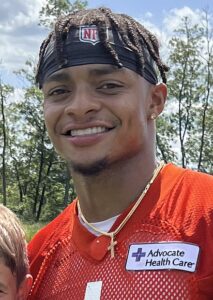 You can read also: Cardinals fire offensive line coach Sean Kugler after an incident in Mexico City
SUMMARY
Justin Fields
PJ Walker
Joe Mixon
Leonard Fournette
Let's get to it.
1. Justin Fields
UPDATE 2: Fields (shoulder) is listed as questionable for Sunday's game against the Jets.
UPDATE: Fields has revealed to reporters that he has a separated shoulder as well as partially torn ligaments in his non-throwing shoulder.
Justin Fields says his injury is a separated shoulder with partially torn ligaments, "basically an AC joint" injury.

— Courtney Cronin (@CourtneyRCronin) November 23, 2022
Fields is expected to return to practice today, according to head coach Matt Eberflus.
Fields suffered a shoulder injury in last week's loss to the Atlanta Falcons but played through it.
Following the game, it was discovered that Fields had a dislocated non-throwing shoulder. That report was later debunked.
If Fields is unable to play against the New York Jets in Week 12, backup Trevor Siemian will get the start. That is something no one wants to see.
#Bears QB Justin Fields suffered a left shoulder dislocation, sources say, a painful injury he somehow played through on Sunday. Coach Matt Eberflus described Fields as "day-to-day." His status for this Sunday is still to be determined.

— Ian Rapoport (@RapSheet) November 21, 2022
2. PJ Walker
UPDATE 2: Walker (ankle) is listed as doubtful for Sunday's game against the Broncos.
UPDATE: Sam Darnold has been named the Panthers' starting quarterback for Week 12.
Baker Mayfield took over at quarterback for the Panthers in Week 11 while PJ Walker was out with an ankle sprain, and boy, was he bad.
We don't know what path the Panthers will take at quarterback, but according to head coach Steve Wilks, we'll learn more about Walker's status during Wednesday's practice.
We'll know how Walker's week off has helped his ankle at that point.
Read more: Week 12 Fantasy Injury Report: Ezekiel Elliot, Matthew Stafford, Josh Allen and Deandre Hopskins
3. Joe Mixon
UPDATE 2: Coach Zac Taylor noted Friday that Mixon (concussion) won't play Sunday against the Titans, Geoff Hobson of the Bengals' official site reports.
UPDATE: Mixon suffered a concussion during last week's victory over the Pittsburgh Steelers and did not return.
Mixon didn't do much before leaving after scoring five touchdowns in his previous game.
Even so, there has to be some concern about his availability in Week 12 against a hot Tennessee Titans team.
To play, Mixon will obviously have to go through the NFL concussion protocol.
Zac Taylor says Joe Mixon is in the concussion protocol right now

— Kelsey Conway (@KelseyLConway) November 21, 2022
We'll provide more information as practices continue this week.
If Mixon is unable to play, Samaje Perine will receive the majority of the reps against an elite Titans run defense.
4. Leonard Fournette
UPDATE: Fournette (hip) is listed as doubtful for Sunday's game against the Browns, Scott Smith of the Buccaneers' official site reports.
We'll learn more about the severity of Fournette's hip injury when the Bucs return to practice on Wednesday, but with the bye week in Week 11, Fournette's status is in doubt.
According to Deepak Chona, a medical professional, depending on the type of hip injury, players are usually out for no more than one week.
According to the Buccaneers' most recent practice report, Fournette was a limited participant today.
Fournette is expected to play in Week 12, according to all reports, but his continued practice participation should be monitored.
NFL Schedule 2022 – WEEK 12
Thursday, Nov. 24
Buffalo Bills at Detroit Lions, 12:30 p.m., CBS
New York Giants at Dallas Cowboys, 4:30 p.m., Fox
New England Patriots at Minnesota Vikings, 8:20 p.m., NBC
Sunday, Nov. 27
Denver Broncos at Carolina Panthers, 1 p.m., Fox
Tampa Bay Buccaneers at Cleveland Browns, 1 p.m., Fox
Baltimore Ravens at Jacksonville Jaguars, 1 p.m., CBS
Houston Texans at Miami Dolphins, 1 p.m., CBS
Chicago Bears at New York Jets, 1 p.m., Fox
Cincinnati Bengals at Tennessee Titans, 1 p.m., CBS
Atlanta Falcons at Washington Commanders, 1 p.m., Fox
Los Angeles Chargers at Arizona Cardinals, 4:05 p.m., CBS
Las Vegas Raiders at Seattle Seahawks, 4:05 p.m., CBS
Los Angeles Rams at Kansas City Chiefs, 4:25 p.m., Fox
New Orleans Saints at San Francisco 49ers, 4:25 p.m., Fox
Green Bay Packers at Philadelphia Eagles, 8:20 p.m., NBC
Monday, Nov. 28
Pittsburgh Steelers at Indianapolis Colts, 8:15 p.m., ESPN