On January 16, 2023, Noobz From Poland and 505 Games revealed the release date for their strategy game Total Tank Generals.
Total Tank Generals release date
Total Tank Generals will be released on March 30, 2023.
The tactical turn-based combat will feature intricate game mechanics, requiring players to manage unit models, troop promotions, movement, battle, and terrain. They will use this knowledge to their advantage while planning attacks and deploying troops in historical battles.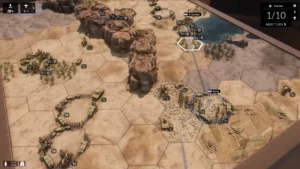 On Steam, the official description reads, "Total Tank Generals needs you! Take command of an army during World War II and lead them to victory. Strategize your way through many scenarios and real historical military campaigns of past generals – such as Patton, Zhukov, and Rommel. The game welcomes novice strategy players with its user-friendly mechanics, but also offers deep, strategic turn-based gameplay for seasoned veterans or those looking for a challenge!"
New players can get acquainted with the game's mechanics with the help of the strategy center, and seasoned players looking for a challenge will find plenty to enjoy in Total Tank Generals. Total Tank Generals should be enjoyed by those who enjoy tactical miniature and board games, as it will require a a familiar mindset in order to achieve victory. In-depth historical content will be included for history buffs, with meticulous attention paid to the specifics of the setting, the units involved, and the key commanders.
Total Tank Generals will be available on Steam.