Despite her online fame as "The Bikini Woodworker," a female carpenter claims that "old fashioned" colleagues in the industry don't approve of her videos in which she wears a bikini while on the job.
TikToker "The Bikini Woodworker" claims 'old fashioned' co-workers don't like her racy work outfits
A female carpenter claims her "old-fashioned" coworkers don't approve of her wearing a bikini to work after she caused a distraction by posting videos of herself doing so on social media.
At university, the young tradeswoman who now goes by the moniker "The Bikini Woodworker" discovered her passion for making sculptures and decorations out of wood.
She is now the proprietor of a craft store called Stain and Ink, and she posts videos of herself creating handmade goods from scratch on the internet.
The blonde bombshell is a social media darling because of the bikini photos of her working in the hot sun.
Nonetheless, she recently revealed on TikTok that her clothing choices can irritate some of her coworkers.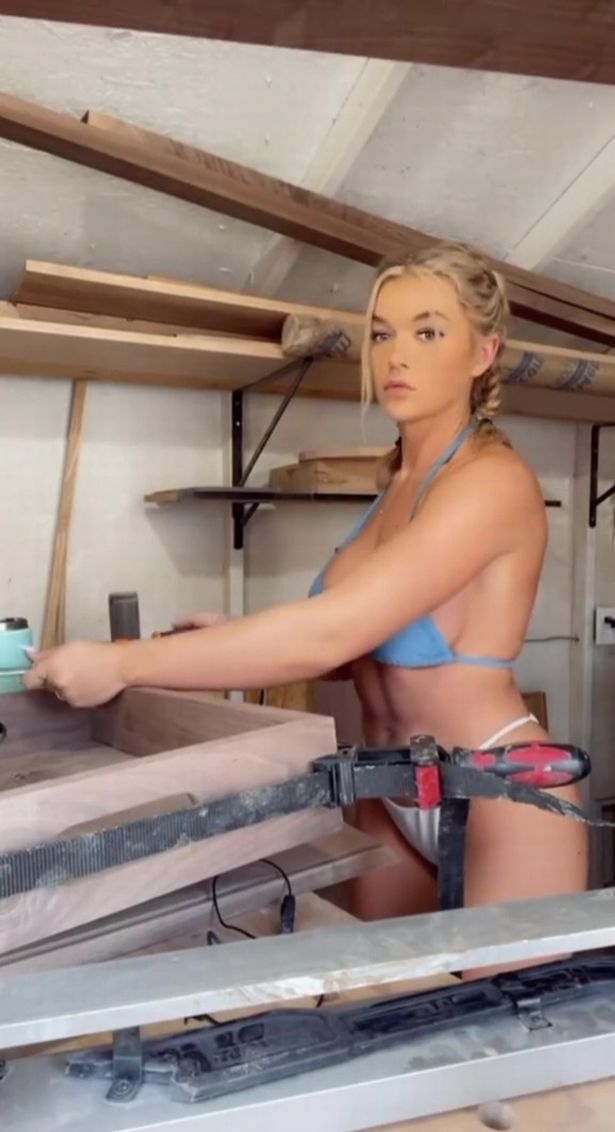 The video, which has been viewed over 8,000 times, shows the woman in her woodshop making a wooden drawer for a customer while wearing a blue bikini top and mismatched white bottoms.
Underneath the photo, she penned: "The oldhead misogynistic carpenters on here aren't gonna like this one."
Fans showed up to show their support for her, and some dudes were even begging to hire her, despite the opinions of those in the industry.
A user asked, "R u trying to find employment?" [sic]
An additional source remarked "Good to see you are wearing a hi-vis bikini top. Safety first."
The bikini woodworker also happens to be a certified personal trainer, so she uses her day off to work on her fitness.
Previously, she wrote about it like this: "Some girls want to be strong, hardworking, do it themselves; some girls want to be more feminine, be a girly girl, someone's princess. As for me, I want it all."
READ ALSO :