Ron accuses Shaq of being on Casey's side, while Tanya says just thinking about Shaq makes her feel "ick" due to his "rude" behavior.
Tanya says she feels "ick" whenever she thinks about Shaq because of his "rude" behavior, and Ron accuses Shaq of being on Casey's side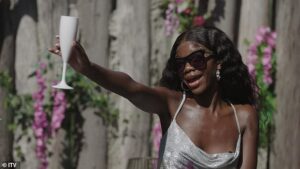 The residents of the Love Island villa have turned on Shaq Muhammad after a heated argument over who should do the dishes.
Both the airport security officer's partner Tanya Manhenga and his close friend Ron Hall reprimand him for his actions the night before.
Shaq and Ron had an argument over the dishes the night before, and Shaq wants to talk to Ron about it in scenes that will air on Friday night's show.
Shaq pulls Ron aside for a private chat, explaining,"'I just wanted to speak to you on a one-to-one basis, at the start me and you were very close and very tight and as time has gone on we've grown further apart."
Then Shaq says, "It stems from how much I care about Lana," revealing that he blames Ron's love triangle with Lana Jenkins for his own feelings.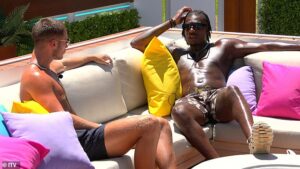 He goes on, "I do care about you as well, and I don't want there to be any friction between me and you."
Ron explains, "Aside from the Lana situation, I feel like the reason we've drifted apart was the Casey situation."
Since you'd only known him for a few days, "I felt like you thought he was more important and you'd only known him for a couple of days."
After they finish talking, Shaq walks over to Tanya and Lana, who are also interested in rehashing what happened the night before.
After Shaq asked Ron to help with the dishes, Tanya said, "It was rude, he's a grown man, he heard you the first time."
Lana elaborates, "It didn't sit right, and I felt like it wasn't about the kitchen."
Later, while on a girls' day out, Tanya opens up to them about how Shaq has been "giving her the ick."
An invitation to go out for gossip and cocktails is sent to the ladies via text message. Get ready to check out of the Villa ASAP because it's a '#LoveIsland #NoBoysAllowed' zone.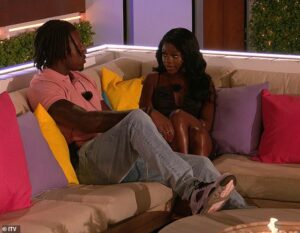 When the ladies get together outside of the Villa, Lana remarks, "I feel like the girls are a lot stronger than the boys at the minute."
Tanya nods and says, "Yes, in terms of friendship, we're like this," while making a fist and a clap.
Tension exists between them, according to Claudia Fogarty. Tanya begins to acknowledge that something about Shaq may be making her uncomfortable as the conversation continues.
In the evening, as the Islanders unwind in the Villa, Shaq pulls Tanya aside for a private conversation.
Shaq says, "I wanted to speak to you about when you and Lana spoke to me, with that situation, and I'll be honest, I really didn't like it. It felt like I was being told off."
'Babe, no one is coming to you like a child, I don't know why you're taking it like that,' Tanya retorts.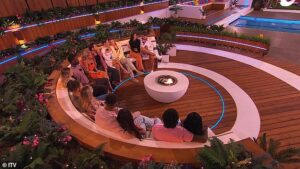 Shaq says, "The way it was handled, I don't like it and I don't expect you of all people to put me in that situation."
"I understand, but for that specific situation that's how I would have handled it and if I had to go back I would do it the same," Tanya says.