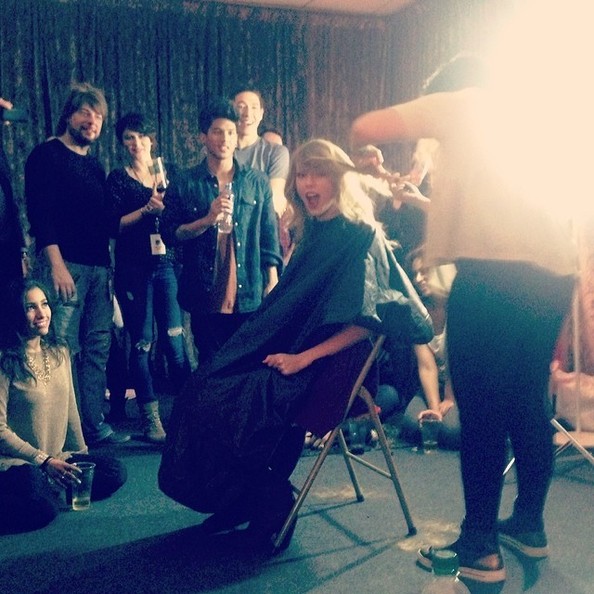 Taylor Swift surprised fans by chopping off her usual long wavy locks and opted instead for a shoulder-length bob hairdo with loose retro curls. The singer was recently in London and invited along some friends including model Cara Delevingne and Ellie Goulding who showed their support for her as she cut her hair to a much shorter length. Cara shared a funny photo of Taylor about to lose her hair, writing on her Instagram:
"@taylorswift chopping off her locks"
Ellie also shared a photo from the moment which featured all three girls and Taylor models her new hairdo. She wrote:
"Just some dorks. And a stellar haircut."
Taylor weighed in on her feelings about her new retro-inspired bob haircut while also thanking the city for having her:
'London, I could never thank you enough. See you next time! PS: short hair, don't care. (!!!),'
Taylor's new mature hairstyle suits the singer and continues a recent trend of celebrities chopping their hair to a shorter length (everyone from Pamela Anderson to Karlie Kloss have decided to try out pixie or bob cuts). Taylor looks grown up but without losing her vintage-inspired image. The short style revamps her look and seems easy to maintain too. It may not be a dramatic as Miley Cyrus' short blonde pixie cut, but that can only be a good thing – Taylor's style is already individual and her image doesn't need such a huge overhaul. What do you think of Taylor's new look – does it suit her, or does it just make her look older?