In the backyard of her Gold Coast mansion, Tammy Hembrow bares all as the summer sun beats down on her.
Tammy Hembrow sparkles in the summer sun in a series of revealing bikini photos taken in the backyard of her Gold Coast mansion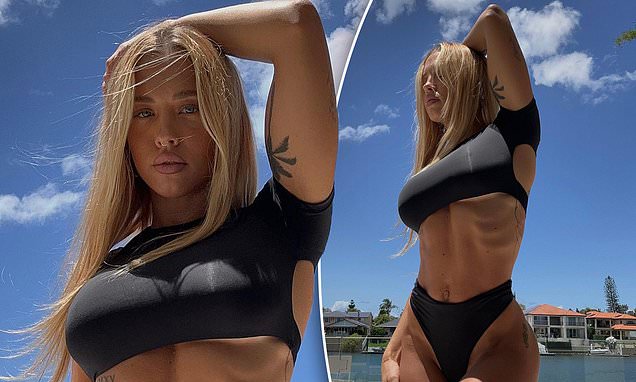 Tammy Hembrow, a social media influencer in the fitness industry, is not shy about showing off her body.
The 28-year-old model posed in a black two-piece bikini in front of her Gold Coast mansion, revealing the lavish surroundings.
On Saturday, she posted four enticing photos of herself to Instagram, all of which showcased her attractive form.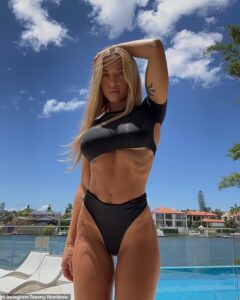 "Half way through the latest [Tammy Fit] challenge and feeling damn good," she wrote.
The blonde beauty's dedication to working out has paid dividends.
Tammy showed off her toned torso and toned legs in a crop top and thin briefs.
The sexy post is a follow-up to the one in which she confirmed the breakup with her fiance, Matt Poole, back in December.
Last week, Tammy Hembrow showed him what he was missing by sharing some revealing photos of herself in lingerie. At the launch of Lounge's Valentine's Day line of lingerie, she posed in a white lace set, exposing her trim waist and ample cleavage.
Tammy and Poole's separation was announced in December, only seven months after the birth of their daughter Posy.
A makeup artist on set at a December photo shoot in Sydney overheard her say that she was a single mother of three children.
Fans suspected a breakup when Tammy's boyfriend, Matt, stopped appearing on her Instagram for a while.
Tammy has a six-year-old son named Wolf and a five-year-old daughter named Saskia with her ex-fiance Reece Hawkins.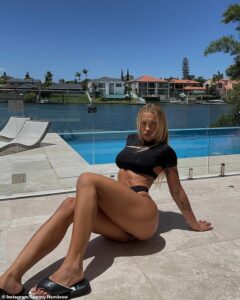 About Tammy Hembrow:
Tammy Hembrow is an Australian fitness model, Instagram Influencer, and entrepreneur. First Appearance: 2013. Queensland, Australia.
Born

:

 
22 April 1994 (age 28 years)
Siblings

:

 
Emilee Hembrow, Amy Hembrow
Parents

:

 
Mark Hembrow, Nathalie Hembrow